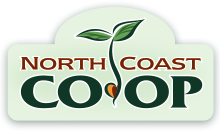 Switching to Paperless
As of May 2016, North Coast Co-op is in transition with Co-op News distribution methods. The following information was originally published in the May issue of our Co-op News.
We invite you to connect with North Coast Co-op online!
Please visit our Stay Connected page to learn about how to receive our Co-op News and other North Coast Co-op communication in your email inbox.
Reducing Waste
As a part of our ongoing efforts to Promote Environmental Responsibility, we try to provide not only ideas for reducing waste, but also alternatives to wasteful habits. Part of our efforts to do so includes changing how we publish our Co-op News. In the March 2016 issue of our Co-op News, we asked readers to respond to the article titled "Streamlining, Savings and Sustainability: How to Reduce Co-op News Impacts?". Thank you to everyone who provided feedback. We enjoyed hearing your concerns and learning from you! You all are very conscientious of your impact on the environment and are willing to make changes. Let's take a look at what member-owners said.
Member-owners Weigh In
One member-owner pointed out that the Co-op should be using recycled paper. Indeed, we are! According to our printer, Western Web: "We use newspaper with the highest Post-Consumer Waste (PCW) content available. And, none of our paper mills convert trees into paper. Any content that is not PCW is mill waste, sawdust mostly."
A couple of member-owners gave detailed feedback on what would make our website more user-friendly. Some things we were able to fix right away and others we are still working on. For example, we are working with our website developer to transform our blog into the Co-op News. Once we have this done, you will no longer need to open the entire document. You will be able to read one article at a time in a format that is easy to view on any device.
Still other member-owners pointed out the toxic and potentially harmful social environment we are creating with computers and modern technology. For now, cash outlay takes priority over costs that would be difficult to extract from our now normal daily technological dependency. This may be a topic of conversation further down the road, but does not currently affect our bottom line goals of reducing mailing and printing costs.
For some of you, you simply just don't like spending more time on computers in order to read the Co-op News. We can totally relate. After spending the majority of the day staring at a screen, it can be great to look forward to picking up a paper newsletter or something to read away from the desk. At times, parting with paper feels like giving up an important historical and cultural tradition.
For others, limited access to computers and internet technology prohibits reading the Co-op News online. In addition, those living in remote and rural locations have minimal opportunities to shop with us and the Co-op News is what keeps them connected. One member-owner even said, "I like that you mention the social aspects because for us as elders, it's our social media."
If we look strictly at the Member Survey responses, the choice is fairly clear. The question was: Given the information presented, how do you think you would you prefer to receive the Co-op News? a) Paper, mailed to your home; b) Paper, picked up in the store; c) Electronic, emailed to your inbox; d) Electronic, visit website; e) Other. Out of 57 respondents (that's high for our monthly survey), 66% said you would still prefer the paper Co-op News—either picked up in store or mailed to your home—and 34% would prefer an email to your inbox or to visit our website.
Moving Forward
It looks like we are not ready to give up the paper Co-op News yet, but enough of you are willing to pick it up in stores or receive an email notification that we can begin to see savings in both print, mailing, and environmental costs.
For those of you willing to pick up the Co-op News at one of our stores, you don't need to do anything, but we would love it if you could provide your email address for reminders when the Co-op News is ready. You can find the information to do so on our Stay Connected page. Quite a few of you have already gone paperless, thank you!
Beginning with the July issue, we are only mailing the Co-op News to those who have "opted in". This is a big change for North Coast Co-op and our member-owner community, but with your support, we believe we will have a positive impact on both the environment and the bottom line. If you would like to opt in to receive the Co-op News via postal mail, please call Bella Waters at (707) 502-3555 ext. 135.
One final note, we were deeply moved by the outpouring of support for the value that Co-op News brings to your lives. A couple of you indicated that the Co-op News makes you feel a part of our North Coast Co-op family. Thank you for your kind words and thank you for being a part of our family!