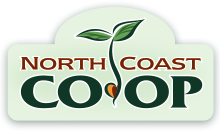 Apply for a Grant
Each fall, North Coast Co-op awards Cooperative Community Fund grants to tax-exempt, local organizations for projects and programs that serve our community. The process is designed to be easy with a proposal that is no more than four pages. Grant recipients are notified in December, and funds are distributed shortly thereafter.
The 2017 Granting Cycle is now closed. Please check back in the fall for the 2018 application instructions.
Grants range from $500-$2,000 with exceptions possible on a case-by-case basis. There are three project focus areas that the Cooperative Community Fund funds:
Sustainable Agriculture

Food Nutrition and Education

Food Security (defined as access to a safe supply of quality food to all aspects of a community)
Reporting & Feedback
Organizations who already received grants are asked to complete the Reporting Form and return within the year following their award (by September 29, 2017 for 2016 grant recipients). The form provides our Gifting Committee, which is made up of member-owners, with feedback and allows them to understand how the funds were used and the impact of the project to the community.
Contact our Cooperative Community Fund Liaison if you have questions.