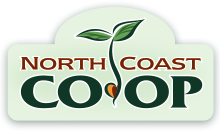 Environmental Responsibility
There is no future if we are not committed to reducing our carbon footprint and leading by example. We already have a strong track record of environmentally friendly choices in our daily operations and our member-owners know they are participating in a store that is continuing to reduce its environmental footprint and encourages shoppers who wish to do so as well. Learn more about our environmental responsibility in our Strategic Plan 2014-2018.
Waste Reduction
Our employees work hard to find ways to reduce, reuse and recycle. In our warehouse operations we compost food waste, wax cardboard boxes are stored and returned to farmers and we recycle as much as possible. For our shoppers, we offer dairy alternatives in glass and ceramic containers which require a deposit, but can be returned and reused. Our bulk selection consists of more than 500 items, including things like granola, flour, nuts, pasta, beans, cookies, shampoos, soaps, laundry detergent, chicken feed and even frozen fruit. In each of our departments we look for opportunities to reduce packaging and encourage shoppers to bring their own clean containers to keep plastics and other trash from going to the landfill.
Zero Waste Events
We strive to achieve zero waste at our events, providing non-bottled drinking water, reusable serving ware, minimal packaging and reduced resource use from decorations to food choices. A part of Zero Waste philosophy is to facilitate behavioral change. We try to provide not only ideas for reducing waste, but also alternatives to wasteful habits. We partner with Zero Waste Humboldt to promote this philosophy in our community.
Paper Bag Reduction
We encourage the use of reusable bags. Since our start in 1973, we have never offered plastic bags at the register, and we took a leadership role in 2010 with paper bag use. We endeavored to reduce single-use paper bags by giving away hundreds of free washable/reusable bags while implementing a 10 cent charge on paper bags used at check out. It worked—we reduced our paper bag consumption by more than 80%!
Energy Reduction
A big part of waste is the energy used to run a business. At North Coast Co-op, we routinely inspect our equipment and find ways to be more energy efficient. We partner with EnergySmart Grocers to find opportunities to reduce our energy waste, from LED lighting in our freezer cases to energy efficient fans in our produce coolers. After closing, we cover any cases that lose significant energy during the night. For our employees and shoppers, we offer plenty of bike parking for reduced energy consumption going to and from our stores. We track our energy use to see trends and identify areas for reduction through a program called Co+efficient provided by National Co+op Grocers. In April 2016, we were honored to be given a Sustainability Star Award!
Check out our 20-Year Statement of Sustainability.