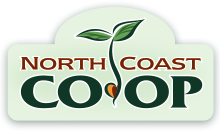 Patronage Refunds
Patronage refunds are funds returned to member-owners in years that the Co-op makes a profit.
The information on this page applies to patronage refunds for Fiscal Year 2016 (ending March 2016), which were distributed in December 2016. Some details are subject to change year to year at the board's discretion.
How does it work?
Co-ops are owned by their member-owners. Member-owners buy shares in North Coast Co-op, and the distribution of profits is based on how much each member-owner spends at the North Coast Co-op over the course of the year, rather than on how many shares each member-owner owns. The more you shop, the more you get back in patronage refunds! This is why it is important to show your member-owner card or give your member-owner number to your cashier each time you pay at the register.
Patronage refunds are in keeping with the third Cooperative Principle of "Member Economic Participation." Distribution of patronage refunds lets member-owners share in the success of our community business!
Who is eligible?
Members can hold A, B or C shares, but all members who patronize the Co-op are eligible for patronage refunds. Only those members whose refunds are $2.00 or more will receive a voucher. All refunds less than $2.00 will be issued in B shares.
How will I get my refund?
Patronage refund notices are sent to the mailing address we have on file for each membership, within nine months of the close of our fiscal year at the end of March. Fair Share member-owners - those who have $300 invested in B shares -receive 100% of their refund as a voucher that can be spent in the store or redeemed for cash. Those with B share investments of less than $300 receive their refund partly as a voucher and partly in the form of B shares, issued directly to their accounts. The accumulation of B shares eventually results in Fair Share status. The percentage that goes into B shares is determined annually by the Board of Directors. This year (December 2016), non-Fair Share members received 50% as a voucher and 50% in B shares.
What can I do with the voucher?
Patronage refund vouchers can be used on any purchase at North Coast Co-op. Vouchers can also be redeemed for cash at Customer Service at either store location, used to purchase B or C shares in the Co-op or, they can be donated to our Cooperative Community Fund. Visit our Cooperative Community Fund page.
Why didn't I receive a patronage refund?
There are several reasons why member-owners may not have received a refund:
Your refund voucher was returned to us because we do not have a current address on file. Please be sure to keep your phone, address and email current in our records
Membership number was not used at the register, therefore no patronage was accrued
Patronage refund totaled less than $2.00.
Mistakes happen. If you know your address is correct, you used your membership number at the register, and had ample patronage but still didn't receive a refund, it may be our error. Contact our Membership Coordinator at (707) 822-5947 ext. 234.
Is it true that patronage refunds are not considered taxable income?
It's true. Patronage refunds are not considered taxable income if purchases were for personal/household consumption. An individual refund is a deferred price reduction on goods purchased for personal use.
I received a patronage refund but forgot to redeem it. What do I do?
Your voucher is valid until March 15, 2017; after that date, the voucher will no longer be active and the refund will be subject to Unclaimed Equity, per Bylaws Section 2.07. For more information visit our Bylaws page.
Questions?
Please email our Membership Coordinator or call (707) 822-5947 ext. 234.