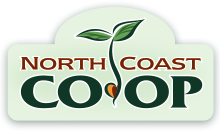 Stay Connected!
Staying connected with our community is one of North Coast Co-op's top priorities. We have many ways to do so, from our Co-op News to open board of directors meetings to encouraging member-owners to exercise their right to vote in North Coast Co-op elections. (Visit our Become a Member-Owner page to learn about joining us!)
Our Co-op News is available to read online in full every month, and we have printed copies in both stores. We also offer to send an email to your email inbox letting you know when the latest issue of the Co-op News is available. This is a great way to stay connected with North Coast Co-op!
To have our Co-op News notification emailed to your inbox every month, please fill out the form below. You can also choose to receive the sales flyer, and be the first to know about exciting new additions to our website: online entries for giveaways, online comment system, and more! Read below for information about each of our email lists.
If you would like to learn more about the changes we've made in the delivery of our printed Co-op News, please visit the Switching to Paperless page.
We value your privacy and never sell or misuse your information. For more information, visit our Privacy Policy page.
About Our Email Notifications
Email is an easy way to stay connected and get notifications about North Coast Co-op happenings that are important to you. Subscribe to one or all of our email lists—the choice is yours. We value your privacy and never sell or misuse your information. For more information, visit our Privacy Policy page.
The Co-op News
The Co-op News is our monthly newsletter. It is available in stores and online. Subscribing to this gives you a monthly reminder that the new Co-op News is available, with a few highlights to show you what is happening! View the online version of the Co-op News to get a taste of what we do.
Weekly Sales Flyer
We love finding ways for our shoppers to save! This is a short, simple email with some highlights from this week's sale items. You can view more of our sales on our Specials & Savings page.
Giveaways & Coupons
We offer a monthly member-owner giveaway, and often have other giveaways sponsored by North Coast Co-op, community partners, or vendors. Be the first to learn about these free-to-enter giveaways, and also receive coupons in your from time to time!
Board of Directors & Membership News
North Coast Co-op Board of Directors is a vital part of our organization, as are our member-owners. Get periodic updates on what is going on with the board, as well as an member-owner updates.
Classes, Demos & Events
North Coast Co-op offers a variety of fun ways to learn about foods and recipes, and connect with your community! This periodic email will give you the latest scoop on what's going on at North Coast Co-op. View our Co-op Calendar to get a sense of what's coming up.
Annual Report
We are very proud of our accomplishments and one of the ways we get to share them is through our Annual Report. You'll find a messages from our Board President, General Manager, CFO, and Store Managers, a financial overview, as well as snippets of our community work, environmental initiatives, Strategic Plan objectives and our awards and recognition.
Food Recalls
Occasionally, food producers must recall an item for various reasons. When they do, our first step is to see if the affected item was sold in our stores. If it was, we will issue a recall notice. If the food recall is expansive or life-threatening, we send notification to our local media. North Coast Co-op is committed to ensuring food safety. This email list will alert you any time we issue a recall of any type. You can view current recalls on our Food Recalls page. (Note: As of 6/16/16, this list is not yet up and running, but you can still sign up and we'll let you know when it is!)
Opportunities to Participate
Community participation is an important part of North Coast Co-op. Be the first to know how you can let your voice be heard, participate in our sponsored events, and provide feedback.
Please remember, you can unsubscribe from any list at any time, or change your preferences. Thank you for staying connected with your co-op!