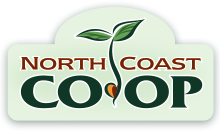 Weekly & Monthly Savings
We have loads of items on sale every week. Some of those items are featured below, and there are many, many more throughout our stores. We especially love promoting Local products whenever possible, including those made right in our stores! Visit our Specials & Savings page to see all of the different ways to save.
North Coast Co-op Deli
$6.99 lb
June 20 -July 3, 2017
Artichoke Salad. A refreshing mix of artichoke hearts, kale, fresh organic veggies, feta cheese and olives makes a great side for grilled items or a light summer dish on its own!
View the Weekly Sales Flyer

Local Deals

North Coast Co-op Bakery
Really Good Stuff Trail Mix
15% off/lb


Tomaso's
Stuffed Spinach Pie
$10.79

Fortunata's
Assorted Pasta Sauces
$3.99


Tofu Shop
Tofu Sausage Patties
$3.79


Lost Coast Brewery
Assorted 6-packs
$7.49


Mas Salsa Por Favor
Assorted Salsa
$2.99

Co+op Deals

Straus Family Creamery
Organic Greek Yogurt
$7.69

Tofurky
Vegetarian Deli Slices
$2.99

Rudi's Organic Bakery
Hamburger Buns
$3.49

Oregon's Wild Harvest
Assorted Supplements
25% off

Cascadian Farm
Organic Frozen Blueberries
2 for $6

Annie's
Organic Dressing
$2.99

Organic Produce Specials

Cantaloupe
Organic
$.99 lb
California

Strawberries
Organic
$3.69 ea
California

Hass Avocados
Organic
$1.39 ea
California

Red Seedless Grapes
Organic
$2.79 lb
California

Broccoli
Organic
$1.99 lb
California

White Corn
Organic
$.89 lb
California

Yellow Peaches
Organic
$2.99 lb
California
Sugar Plum Cherry Tomatoes
Organic
$1.99 ea
California

Blueberries
Organic
$3.49 ea
California

Pink Lady Apples
Organic
$2.49 lb
Chile