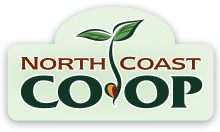 Strategic Plan
Our intentions for the next five years.
Where do we want the Co-op to be in the next five, ten, fifteen years? Do we want to have more locations? What kind of employer do we want to be? What will our priorities be in environmental responsibility?
In many organizations, answering these questions is something that happens in a room with top leadership. As a co-op, we ask these questions of our membership first.
We create 5-year strategic plans for North Coast Co-op. Rather than a top-down plan reflecting the vision of one person or a small group, we seek input from the Board of Directors, the management team, the employees and the member-owners at large. Within each of our goal areas, we have specific strategies to help us meet our goals.
The Co-op's membership adopted the 2020-2024 Strategic Plan at the 2018 Annual Membership Meeting & Celebration. Work on the plan begins in April, 2019, the beginning of the Co-op's fiscal year for 2020.
The following are the Strategic Plan Goals for 2020-2024:
Community Hub
Racial and Social Equity
Environmental Responsibility
Cooperative Economy
Robust Local Food System
Financial Viability
Community Hub: Strengthen our position as the most welcoming, accessible, and affordable place to buy healthy, quality, organic, and local food.
Strategic planning survey responses from members made it clear that the Co-op should prioritize quality products at affordable prices. We know from previous surveys that to our members, quality means organic, local, fair trade and fresh. Implicit in this feedback is the desire for the Co-op to remain a grocery store. Beyond that, our members expect that we will be accessible to all who want to purchase healthy, quality food. To some, this means physical accessibility through our built environment and to others, it means affordability.
All together, these attributes create a place for social connectivity around shared values. Members are further engaged by attending classes, participating in committees, or taking advantage of member benefits. To strengthen our position, we must identify, source and vet the best products, create accessible social gathering spaces, increase member engagement, and develop training programs around exceptional customer experience, all while remaining affordable.
Racial and Social Equity: Diversify the makeup of our leadership positions and ensure we confront inequity and inequality in our operations and in our community.
Equality, equity and social responsibility are core tenants of cooperative values. In our 20-Year Statement of Sustainability, we define sustainability as incorporating both environmental and social responsibility. Social responsibility means balancing profit-making activities with society-benefiting activities. It also includes components of social and racial equity. In pursuing racial and social equity, we acknowledge that equal treatment is not the same as equal access because not everyone is starting out with the same resources and privilege.
In our Racial Equity Statement, we say that we are working to build a more inclusive organization, specifically around race. As a purveyor of food, we must analyze and understand our own implicit biases and institutional barriers to achieving racial and social equity in our business practices and work to remove them. By paving the way for diversity in all forms—race, origin, language, religion, convictions, sex, gender, sexual orientation, age, health, disability, class, caste, income, property, and more—at all levels of our organization, we will reflect the unique attributes of our community and serve as a model for other businesses.
Environmental Responsibility: Improve environmental practices focusing on reducing waste, energy consumption and greenhouse gas emissions while engaging consumers and vendors in low-impact shopping.
Promoting environmental responsibility has been a long-standing commitment for our co-op, and we have continued to improve our environmental practices in our daily business activities. Many of our shoppers choose us because they can use their own durable containers and compost their food and post-consumer waste. However, our members have long asked us to invest in more renewable energy infrastructure and do more to eliminate single-use packaging, especially plastic. We believe we can do more, and we believe our shoppers could be encouraged to do more. We also believe our vendors could do more to reduce packaging and take on more environmentally responsible practices. With the foundation we have built over the last few years, we are poised to drive change up and down the food chain and will have a greater impact on the food system as a whole—locally, nationally and globally.
Cooperative Economy: Foster and develop new cooperative ventures with active community leadership and education regarding the cooperative movement.
Cooperation among cooperatives, or cooperative principle number 6, is about sharing resources and supporting cooperative ventures. Nationally and globally, there are producer co-ops, purchasing co-ops, consumers co-ops, worker co-ops and all types of co-ops that work to meet the needs of their members, rather than the sheer pursuit of profit. In our rural community, cooperatives are not as prevalent as they could be. Considering how isolated we are from major metropolitan centers, and the need for sharing limited resources, a cooperative economy would serve to meet the varied needs of community members. From farming to housing to health care, opportunities abound. By actively developing more types of co-ops, our business will be more resilient in a thriving solidarity economy.
Robust Local Food Economy: Increase autonomy over the production and distribution of food supplies and ensure our local food system continues to expand, uses sustainable practices and is culturally relevant.
Developing our local foodshed was a goal in our last strategic plan. In that sense, we were actively supporting local agriculture and sustainable food production, which was identified as a top focus for the Co-op by members in the recent strategic planning survey. In the last few years, the term "local" has become a catchphrase for anything grown or produced within a certain distance and has lost the intent of the movement; locally means securing the ability to feed ourselves if national food supplies could not reach our area. The term local, in its truest form, is related to food sovereignty. According to the Food Sovereignty Alliance, food sovereignty is "The right of peoples to healthy and culturally appropriate food produced through ecologically sound and sustainable methods, and their right to define their own food and agriculture systems. It puts the aspirations and needs of those who produce, distribute and consume food at the heart of food systems and policies rather than the demands of markets and corporations." To that end, our efforts in developing a robust local food system will increase autonomy over the sustainable production and distribution of culturally relevant food.
Financial Viability: Invest in staff, operations, renovation and expansion activities that increase profitability and allow us to fulfill our vision, mission, values and strategic plan.
Grocery stores, in general, operate with thin margins and low profits. Because we are not just a grocery store and do so much more for and in our community, we are often stretched even thinner than traditional grocers. To be financially viable, while also meeting the needs of our members and upholding our values, we must be excellent operators. This includes investing in our business—whether that be investing in a skilled and dedicated workforce, upgrades to equipment, expanding our offerings, remodels or opening new stores—and ensuring that those investments will increase revenue and/or significantly cut expenses. We are eligible for USDA rural development grants and business loans but are often lacking in staff time to pursue them. Forming a non-profit arm of the Co-op would alleviate much of the community development burden from operations while at the same time increase our access to resources. By striving for efficiencies in operations, investing in our business, and shifting community development activities to a non-profit arm, we will be able to meet the changing demands of consumers and maintain financial viability for future generations.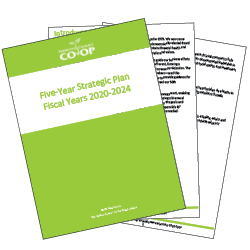 <Read the 2020-2024 Strategic Plan.
Click here to read the Strategic Plan Final Report for 2014 -2018.