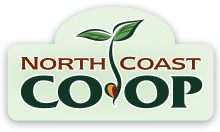 Stay Connected!
Staying connected with our community is one of North Coast Co-op's top priorities. We have many ways to do so, from our Co-op News to open board of directors meetings to encouraging member-owners to exercise their right to vote in North Coast Co-op elections. (Visit our Become a Member-Owner page to learn about joining us!)
About Our Email Notifications
Subscribe to one or all of our email lists—the choice is yours. We value your privacy and never sell or misuse your information. For more information, visit our Privacy Policy page.
Co-op News & Updates
Stay in the know about North Coast Co-op happenings through the online edition of Co-op News, our seasonal publication, as well as periodic updates on store happenings. Be the first to learn about our in-store seasonal member giveaways.
Ways to Save
Get our Specials & Savings delivered straight to your inbox every few weeks.
Classes & Events
North Coast Co-op offers a variety of fun ways to learn about foods and recipes, and connect with your community! This periodic email will give you the latest scoop on what's going on at North Coast Co-op. View our Co-op Calendar to get a sense of what's coming up.
Board & Membership News
North Coast Co-op's Board of Directors is a vital part of our organization, as are our member-owners. Get monthly updates on what is going on with the board, as well as updates that affect Co-op members.
Food Recalls
Occasionally, food producers must recall an item for various reasons. North Coast Co-op is committed to ensuring food safety, and this email list will alert you any time we issue a recall of any type. You can view current recalls on our Food Recalls page.
You can unsubscribe from any list at any time, or change your preferences. Thank you for staying connected with your co-op!