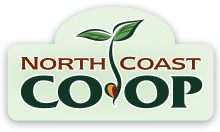 Departments
From fresh, local organic produce to custom deli sandwiches and shelves stocked with natural grocery items, North Coast Co-op has it all. We are the perfect stop for your weekly shopping needs, a quick lunch, or a special bottle of wine.
Each department at the Co-op strives to carry products that are environmentally sound, socially responsible, support our local community & economy, and meet the needs of our members, as stated in our Purchasing & Merchandising Policies.
We use wholesome ingredients to make bread, cookies, cakes, muffins, candies and more in house.
Learn more

We have more than 500 bulk options in each of our stores to help you save money and reduce packaging.
Learn more

We have a full cheese staff on hand to answer any of your questions and help you purchase the finest cheese for every occasion.
Learn more

We offer kombucha on tap, fresh smoothies, custom juices, hot coffee, espresso and more!
Learn more

Whether you are looking for a particular product or are signing up for membership, our friendly staff is here to help.
Learn more
You'll find a full range of soy foods and dairy alternatives in addition to milk, yogurt, butter, eggs and specialty items from local dairies and organic sources.
Learn more

Our in-house Deli cooks a changing selection of delicious food from scratch using fresh, local, and organic ingredients.
Learn more

We offer an extensive selection of organic and high quality products carefully chosen to meet the needs of our members.
Learn more

Our General Merchandise departments, along with our Floral & Garden departments, are great places to find unique home and garden supplies.
Learn more...

We are the only grocery store in Humboldt with a full service butcher, which means we "break beef" right in our stores.
Learn more

We work directly with local farmers to ensure the largest selection of fresh, local, organic produce year-round.
Learn more

We carry a wide variety of natural supplements, essential oils, cosmetics and body care products.
Learn more

The Co-op's wine, beer and cider selections are driven by the customers who walk our aisles.
Learn more