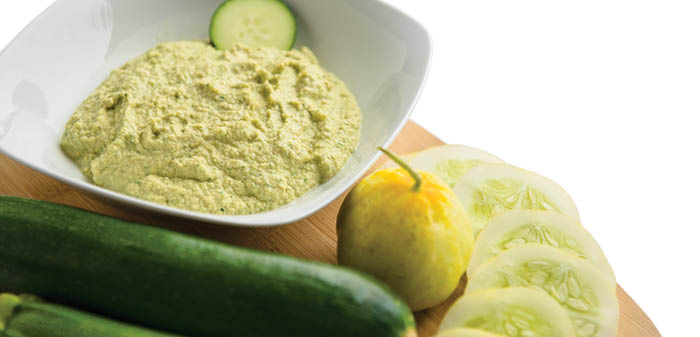 This hummus recipe uses raw zucchini, and is especially perfect for those who are avoiding legumes. Use it as a spread or a dip!
Ingredients
1 cup diced zucchini
⅓ cup tahini
¼ cup fresh lemon juice (1 lemon)
1-2 cloves garlic, minced
¼ teaspoon sea salt, plus more to taste
2 teaspoons ground cumin
Directions
Combine all of the ingredients into a food processor or blender and blend until smooth and creamy.

Adjust seasoning to taste. Sprinkle with cumin, if desired. Serve chilled with crackers or veggies such as carrots, sweet peppers or cucumbers.

This recipe can easily be doubled or tripled to make more than one cup. Make extra to freeze!
Recipes you might like:
Roasted Pumpkin Seed Hummus
Cashew Avocado Cream Spread