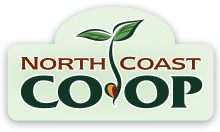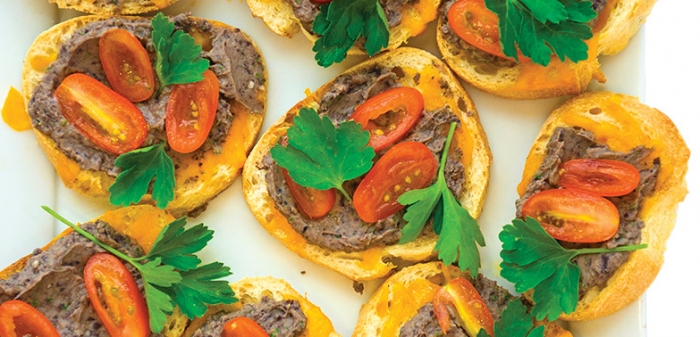 Transform your toast from a breakfast basic to an anytime snack or a quick weeknight dinner. There is a wide variety of bread available for toasting, from the everyday prepackaged sliced bread to specialty bread baked at the Co-op's bakery or special gluten-free breads for those who avoid gluten. You can even slice baguettes and the large crusty-bread loaves to make your toast.
For toasting the bread you can use a pop-up toaster or toaster oven, or even a hot skillet with oil drizzled on the bread. Toppings for toast can be as simple as nut butter or even casserole and veggie leftovers. Try this specially-made bean spread.
SERVES: 12
Ingredients
1 loaf of North Coast Bakery bread
6 ounces cheddar cheese, grated (about 1 ½ cups) or dairy alternative
1 (15-ounce) can black beans, drained
1 Tablespoon chopped fresh parsley, plus 12 fresh parsley sprigs
1 Tablespoon balsamic or apple cider vinegar
2 teaspoons olive oil
1 large clove garlic, minced
3 Tablespoons water, or as much as needed
12 cherry tomatoes, sliced
Directions
Preheat oven to 350°F.

Cut bread into ½-inch thick slices. Arrange on a baking sheet and place in oven for 10 minutes, or until golden.

Meanwhile, combine beans, parsley, vinegar, oil and garlic in blender or food processor and process into puree. If puree is too thick, add water one Tablespoon at a time to reach a consistency that is good for spreading. Cover and refrigerate.

Divide cheese among bread slices, pressing it firmly in place. Bake for 10 minutes longer, or until cheese is melted and toasts are crisp.

Remove from oven and set aside until room temperature.

Just before serving, generously spread bean mixture on toasts. Top each with tomato slice(s) and a sprig of parsley.
Recipes you might like:
Roasted Pumpkin Seed Hummus
Bean-Free Zucchini Hummus