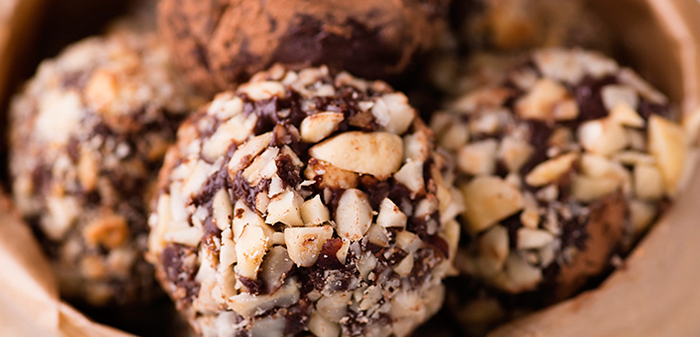 Serve these elegant treats with a fine coffee, Chai tea or Champagne.
Ingredients
2 1/2 cups crushed vanilla wafers (about 12 ounces)
1 cup toasted almonds, ground
2 teaspoons ground cinnamon
1/2 cup powdered sugar, sifted
1 cup (6-ounce package) semisweet chocolate chips, melted
1/2 cup pumpkin puree
1/4 cup coffee liqueur
1/2 cup toasted almonds, chopped
Directions
1. In a medium bowl, combine crushed vanilla wafers, ground almonds, cinnamon, and powdered sugar.
2. With a rubber spatula, mix in melted chocolate, pumpkin, and coffee liqueur. Let stand 10 minutes to firm up.
3. Shape mixture into 1-inch balls, place on a wax paper-lined plate, and refrigerate until firm, about 20 minutes.
Garnish with chopped toasted almonds just before serving.
Recipe Notes
Recipes you might like:
Cranberry Oatmeal Cookies