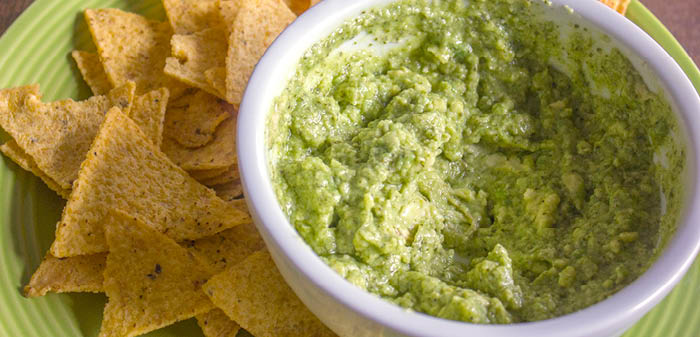 This is a great lunch time go-to when you only have time for a quick snack, as well as a show-stopping potluck dip. No one needs to know how easy it was to make!
Ingredients
1 to 3 avocados, pitted
1 cup pesto (homemade or store bought)
2 Tablespoons lemon juice
Pinch of salt and pepper
Directions
Add lemon juice to avocado flesh in a bowl and smash with fork.

Add 1 cup of pesto.

Smash pesto and avocados until smooth.

Add salt and pepper to taste.

Serve with tortilla chips, crackers or pita chips.
Recipes you might like:
Spinach & Cannellini Bean Dip
Oven Roasted Cherry Tomatoes
Roasted Pumpkin Seed Hummus
Bean-Free Zucchini Hummus
Cashew Avocado Cream Spread