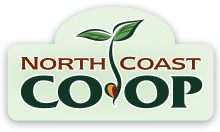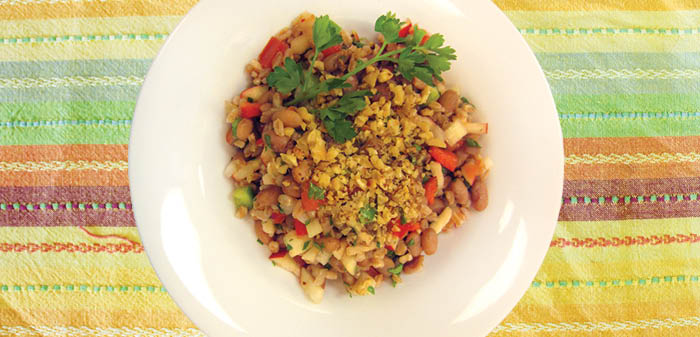 Both farro and pinto beans can be purchased in our Bulk Department, and combine to make a special salad.
SERVES: 6
Ingredients
1 cup pearled farro (2 cups cooked)
2 cups dry pinto beans (2 15-ounce cans of pre-cooked beans can be used in place of dry beans)
½ onion, minced (red or yellow)
1 tomato, diced
⅔ cup bell peppers, green and/or red, diced (optional)
1 large red apple, diced
½ cup walnuts, toasted and chopped
½ cup coarsely chopped flat leaf parsley
2-3 Tablespoons olive oil
2-3 Tablespoons vinegar (apple cider, wine or golden balsamic)
½ teaspoon sea salt, or to taste
Directions
Cook the Beans (skip this step if using pre-cooked canned beans): To make 6 cups of cooked beans (not just pintos), cover 2 cups dry beans with 3 times their volume of water and let stand in refrigerator for 12 hours or overnight. Then in a large saucepan, cover drained, soaked beans with 3 times their volume of fresh water. Bring to a boil, reduce heat and simmer, partially covered, adding more water if necessary for about 45 minutes. Beans are done when they can easily be smashed with the back of a spoon or between your thumb and finger. Separate 2-3 cups of beans and let the remaining portion (3-4 cups) cool before store in refrigerator.

Cook the Farro: Fill a 6-quart pot ¾ of the way full of water and add ½ teaspoon salt. Bring to a boil. Rinse farro in a strainer under cold running water. Drop in the farro, stir and get water to a steady, lively simmer. Partially cover the pot and cook 20-30 minutes, or until tender. Drain the farro in a colander.

Mix the Salad: Toss cooked farro with minced onion, chopped tomato, chopped apple, peppers, olive oil and vinegar. Let stand at room temperature for 30 minutes. Fold in 2-3 cups of the drained, cooked pinto beans and parsley. Top salad with toasted walnuts.
Recipes you might like:
Pearled Farro & Green Lentil Salad
Quinoa Pilaf with Pitted Prunes
Farro & Roasted Acorn Squash
Summer Black-Eyed Pea Salad