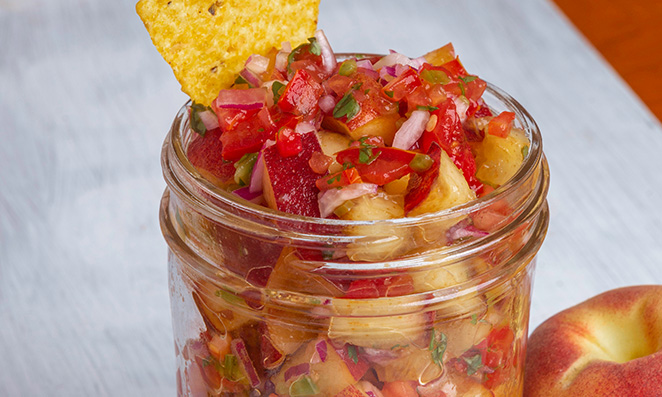 SERVES: 4
Ingredients
3 large ripe peaches
1 Roma tomato, de-seeded
1/2 jalapeño, de-seeded
1/2 small red onion
1/4 cup cilantro
1 lime, juiced
Salt and pepper to taste
Directions
1. Cut peaches into large cubes and set aside.
2. Dice the de-seeded tomato, de-seeded jalapeño and onion into small chunks – you want the peaches to be the star, so dice the veggies smaller than the peaches.
3. Roughly chop the cilantro.
4. Add all the veggies to the peaches.
5. Pour the lime juice over the mixture and gently combine.
6. Add salt and pepper to taste.
7. Serve with your favorite tortilla chips, or over grilled fish, steak, or tacos.
Recipe Notes
Note: if you are in it for the fresh, but not the spice, substitute green bell pepper for the jalapeño. For a spicier salsa, double the jalapeño or leave the seeds in.