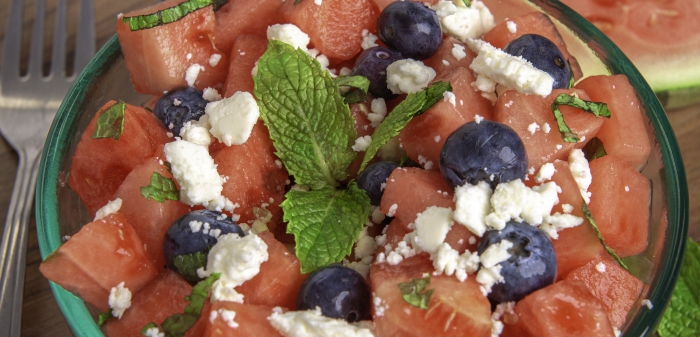 Watermelon Feta Salad
Course: Salads
North Coast Co-op |
In just ten minutes, you can be enjoying this sweet and salty summer salad. It combines the best fruits of the season with the zing of feta cheese and the brightness of mint.
Ingredients
Directions
1. Dice watermelon into bite-sized chunks – you'll want about 8 cups.
2. Rinse blueberries.
3. Chop fresh mint into thin strips.
4. Combine watermelon, blueberries and mint. Toss in crumbled feta.
5. In a small bowl, whisk to combine lime juice, olive oil, honey and salt.
6. Pour over fruit and toss. Serve immediately.
Recipe Notes
Note: For a simpler dressing, just squeeze two lemons over the fruit.