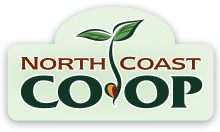 This recipe was submitted by Co-op member Patty Hoffman in response to a Member Call Out for local recipes in 2014. Drizzling the finished sandwiches with balsamic vinegar is a must.
Ingredients
2 medium beets, peeled
6 ounces feta (look for sheep's feta if avoiding cow dairy)
6 ounces cream cheese (substitute with chevre/goat cheese if desired)
1 Tablespoon olive oil
1 Tablespoon balsamic vinegar
1 sprig rosemary
Directions
Cook whole beets in simmering water on stove top for around 40 minutes, until tender crisp, not too soft. Good sized beets will need more time.

While waiting, mix together half the feta cheese and half the cream cheese to start, and add one or the other until it is the flavor that you like.

Cool the beets by removing them from the water. Cut the beets into uniform slices of equal thickness, about the thickness of sandwich bread. (Put aside the ends and botched pieces for a salad using all the same ingredients except the cream cheese.)

Divide the feta cheese mixture between 6 or 7 "sandwiches", depending on the slice diameters and how thick you like the end product. Put the mix between two beet slices and push down slightly to form a "sandwich". At this point, you can arrange on a plate, cover and save for 2-3 days, or arrange on lettuce leaves to serve immediately.

Drizzle with olive oil and balsamic vinegar. The vinegar is a must. Sprinkle the tops with rosemary.
Recipes you might like:
Spinach & Cannellini Bean Dip
Oven Roasted Cherry Tomatoes
Roasted Sweet Potato Slices with Cilantro Pesto