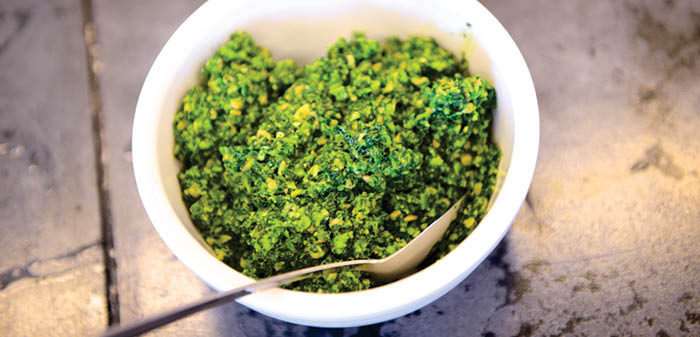 This pesto is a great addition to roasted vegetables, used in place of mayonnaise on sandwiches, or as a dip.
SERVES: 2
Ingredients
1 cup raw pumpkin seeds, hulled and toasted
½ cup flat-leaf parsley, fresh
¼ cup chives, fresh and coarsely chopped
¼ cup plus 2 teaspoons extra-virgin olive oil
½ teaspoon salt
½ teaspoon black pepper
1 teaspoon lemon zest, finely grated
2½ cups baby spinach (packed tightly), fresh
1 garlic clove
Directions
In a small pan over medium heat, add 2 teaspoons olive oil. When the oil is hot, add the pumpkin seeds and heat until they start to smell nutty, puff and change color slightly. This will take about 4 minutes, stir often.

Combine toasted pumpkin seeds, parsley, chives, oil, garlic, salt, black pepper, lemon zest, and baby spinach in a food processor. Pulse until well combined. Taste and add more salt and pepper if needed.
Recipes you might like:
Roasted Sweet Potato Slices with Cilantro Pesto