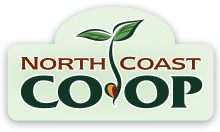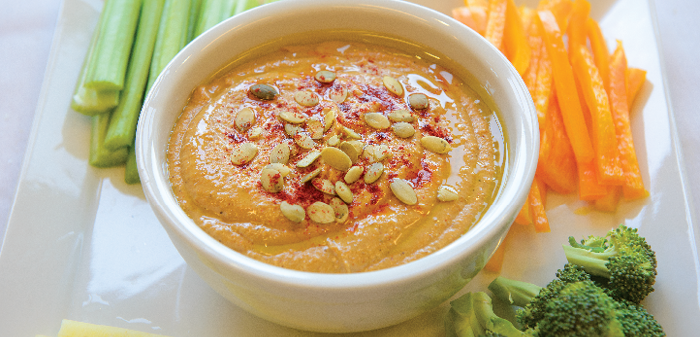 Pumpkin seeds are nutritional powerhouses wrapped up in a very small package. Why not try a new way to use pumpkin seeds by making up a batch of this delicious hummus!
SERVES: 4
Ingredients
1 ½ cups raw pumpkin seeds, hulled (also called pepitas)
4 cloves garlic, whole cloves and peeled
1 Tablespoon olive oil, plus ½ cup olive oil, plus more for drizzling
1 teaspoon smoked paprika, divided
1 teaspoon chili powder, divided
1 teaspoon salt
½ teaspoon pepper
1 ½ cups cooked cannellini/great northern beans (reserve cooked bean liquid)
1 lemon, juiced
Salt and pepper, to taste
Directions
Preheat oven to 350° F.

Add the pumpkin seeds, garlic cloves, 1 Tablespoon olive oil, ½ teaspoon smoked paprika, ½ teaspoon chili powder, salt and pepper to a medium bowl. Toss the ingredients together until the seeds are evenly coated. Put ingredients on a sheet pan and spread out to form an even layer. Roast for about 10-15 minutes or until seeds begin to lightly brown (remove the pan from the oven every 5 minutes to stir the seeds and check for doneness). When done, remove from the oven and let cool 5 minutes.

Add the pumpkin seeds and garlic to a food processor and process until a smooth paste forms (about 5 minutes), scrape down the sides as needed. Once the pumpkin seeds form a paste, add the beans. Pulse and blend until combined and the beans begin to purée, about 2-3 minutes. With the processor still going, slowly pour in ½ cup of olive oil, blending continuously for a few minutes (scraping down the sides if needed) until the mixture is smooth and creamy (add cooked bean liquid to thin consistency if needed). Add the remaining ½ teaspoon of chili powder, ½ teaspoon smoked paprika and lemon juice. Blend until combined. Add hummus to a bowl and drizzle with olive oil. Will keep for one week in the refrigerator.
Recipes you might like:
Pumpkin Seed & Spinach Pesto
Bean-Free Zucchini Hummus
Cashew Avocado Cream Spread