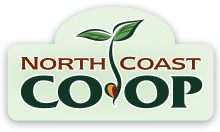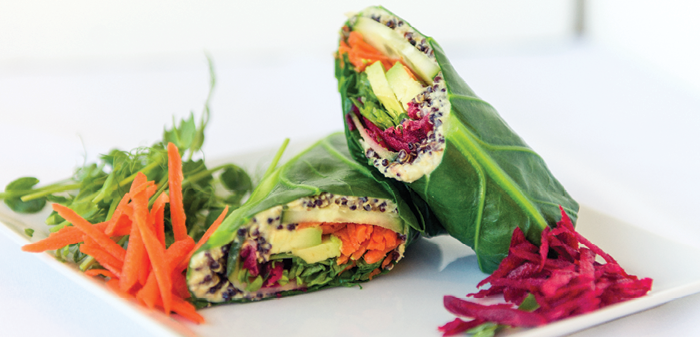 Collards are leafy green vegetables that belong to the same family that includes cabbage, kale and broccoli. They are one of the non-head forming members of the Brassica family having dark green leaves that are smooth in texture and relatively broad. Unlike their cousins, kale and mustard greens, collards have a very mild flavor. In Northern California's mild climate, they are available year round.
SERVES: 2
Ingredients
2 collard leaves
¼ cup hummus, divided
¼ cup cooked quinoa, divided
Veggies for topping: shredded carrot, shredded beet, sliced avocado, sliced cucumber and pea shoots
Directions
Blanch leaves, one at a time by placing leaf in simmering water for about 10-15 seconds. Leaves become dark green and pliable. Transfer to a bowl of cold water and let cool. Remove and pat dry.

Cut off the large stem at the bottom and then shave off the thicker part (rib) that goes up into the leaf by folding the leaf at the stem. This makes it easier to wrap.

Lay collard down stem side up. Spread 2 Tablespoons hummus in the center of each leaf, following the stem. Top with 2 Tablespoons of quinoa and desired vegetables.

To wrap, turn the collard so the stem and the hummus-veggie pile is parallel to your body. Fold in the sides, fold the side closest to you over the veggies, and then continue rolling until everything is nice and snug inside.

Slice in half on the diagonal. Serve immediately or wrap and refrigerate.
Recipes you might like:
Garbanzo Bean Burgers with Tomato-Olive Relish
Black Bean and Tofu Tacos
Cauliflower Lentil 'Meat'balls