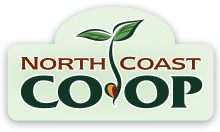 Certified Organic Grocer
We have been a Certified Organic Grocer since 2006!
North Coast Co-op is the first food co-op on the west coast, and the only food retailer in California north of the Bay Area, to be certified organic! North Coast Co-op handles all certified organic products in accordance with federal regulations from the delivery truck to your basket.
Maintaining Organic Integrity
Ensuring organic integrity is a complex multi-step process. First, everyone who works at North Coast Co-op is fully trained on what constitutes a certified organic product. Each staff member signs an affidavit stating they have read and understand the definition of certified organic.
In addition, all staff members that work in departments that handle organic product are trained to maintain the integrity of the organic product they are handling. We ensure organic and conventional products never touch or are "co-mingled" either on a retail display or in back stock storage.
When we sanitize a surface that touches food—like cutting boards, sinks, and knives—we are required to completely remove any sanitizer residue and we are required to document when we do so.
Along with this we maintain extensive records (our certification binders are massive!). We keep updated copies of organic certificates from all vendors that sell us organic products. We maintain our California organic registration. We also fully detail our "Organic System Plan", which includes things like how each department handles organic products, what approved pest control practices we have in place, as well as examples of price signs we use to represent organic products to our shoppers.
We can only be a certified organic retailer if we are accredited by an independent third party certifying agency. California Certified Organic Farmers (CCOF) is the certifying agency we have chosen. Like all certified farmers or certified food makers we pay the certifying agency to audit our operation and declare we have complied with organic regulations. CCOF schedules an organic inspector to visit our stores once a year and the inspector thoroughly reviews all of the ways we maintain organic product integrity. The inspector then reports back to CCOF. Once CCOF is certain we are maintaining that integrity, they renew our certification.
While this process can be arduous and expensive, it is worth it to maintain the trust of our shoppers!