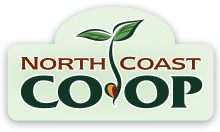 Our Local Foodshed
Local since 1973.

North Coast Co-op defines our local as Humboldt, Del Norte, and Trinity counties. To be considered local, a product or brand must be either owned, operated, and/or produced within that region. Look for our orange local logo throughout our stores to find the hundreds of products from nearly 200 local vendors!
We're with the Farmers!
For more than 40 years, North Coast Co-op has provided a market for local produce, supporting our local farmers and their organic practices. Each winter, we sit down with about 25 local farmers to determine what crops we can expect to see on our shelves throughout the year. This allows the farmers to depend on a market for their fresh produce, and the farmers provide the best organic fruits and vegetables for our shoppers. In fact, we buy and sell the most local produce of anyone in Humboldt County. A report produced by Redwood Coast Community Alliance with Family Farmers showed that North Coast Co-op purchased at least five times more produce than its competitors, with as much as 70% of it being local in the summer months!
Working with Local Producers
For more than 40 years, we have provided economic development assistance to local producers and extended a purchasing hand to start-ups, assisting with marketing, supply agreements, merchandising, packaging and pricing—all with an eye toward sustainability, food security and a triple bottom line (people, profit, and planet).
Toward that end, we created guidelines for producers that will help them understand what we need as retailers, and continue to refine systems to assist in their development process. If you would like to join our long list of local vendors, please fill out our New Vendor Application and return it to Customer Service.
Eat Local Challenge & Humboldt Local Food Month
A Co-op tradition since 2008, the Eat Local Challenge inspires our community to focus on supporting local whole foods and products during the month of September, which is Humboldt Local Food Month. In partnership with local organizations such as the Community Alliance with Family Farmers and North Coast Growers Association, the Eat Local Challenge and Humboldt Local Food Month continues to prove the importance of local in our community. To sign up for the Eat Local Challenge, visit Customer Service in one of our stores during September each year.
Read more about Local Food Month at the Co-op
Developing Our Local Foodshed
As a part of our 5-year strategic plan, we are committed to expanding sustainable food production, building capacity for producers, and filling gaps in our regional food distribution system. Learn more in our 2021-2025 Strategic Plan.