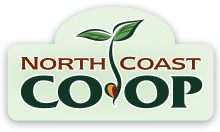 Do you like cheese? Does the word "like" seem too trite to describe your burning passion for cheese? Are you somewhere in the middle? Then have we got a deal for you! From now until July 31, we're offering a bulk discount on our in-house cut and wrapped cheeses! If you buy six or more of our cut and wrapped cheeses, we'll give you 10% off. Awesome, right? Keep reading for important details and exclusions, plus a terrible cheese pun!
How it works: Just pick out your cheeses (mix or match at least six) and head to the register. The discount will be automatically applied to your purchase. But again, only our cut and wrapped cheeses (the ones that are individually weighed and priced) apply for the discount. Look for our Co-op logo on the label to be sure your cheeses count. Currently, this will not apply to cheeses that are packaged by the manufacturer (those already have a 10% case discount, in case you didn't know), or cheeses sold at our Deli counter. But that still leaves some of the best cheeses known to humankind! We're talking brie, we're talking bleu, we're talking the king of cheese—Parmigiano-Reggiano.
You can by six pieces of your favorite cheese, or six different cheeses. Eat them all yourself or give them all to your friends. There is nothing stopping you from using this discount to get 10% off dozens of cheeses at a time, or 6 every day until July 31st—we're not here to judge. This is just ten more reasons to build an epic cheese board. You can eat your cheese selections with a satisfied smile as you enjoy your un-brie-lievable savings (we warned you this pun was terrible).
If you would like more cheesy puns or alerts of fantastic new cheese deals, you can sign up for our cheese email list, where we send out notifications about new episodes of our podcast (did you know we have our own cheese podcast?), Cheese Department news, and of course, the aforementioned fantastic cheese deals—including exclusive coupon deals like our current 70% off Manchego. Now that's a gouda deal! You can sign up for our emailing list by visiting www.northcoast.coop/cheese.