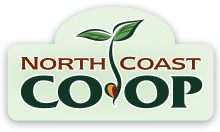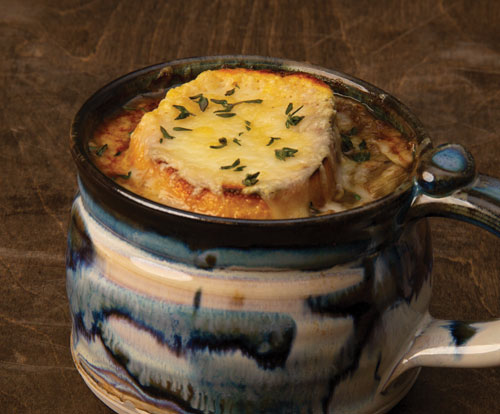 Ingredients
1 lb leeks
1 lb yellow or sweet onions
¼ C sherry vinegar
2 garlic cloves, minced
1 T fresh thyme, chopped
4 T unsalted butter
½ tsp sea salt
¼ tsp black pepper
4 C beef, chicken or
vegetable stock
1 small baguette
1 C grated Gruyere cheese
Fresh thyme to finish
Instructions
1. Cut off the root ends, dark green ends, and remove the tough outer layer of the leeks. Cut in half lengthwise, rinse with cold water, and roughly chop into ½-inch pieces.
2. Cut off the root and stem end of the onions, peel, and slice in half lengthwise. Cut onions into thin strips by slicing with the grain of the onion.
3. Melt the butter in a Dutch oven or heavy-bottomed saucepan over medium heat. Add leeks and onions, stirring occasionally until golden brown, about 15 minutes. Add vinegar, and cook until almost evaporated, about 1 minute. Add garlic, sea salt, black pepper, and thyme. Stir to combine and cover halfway with a lid so steam can escape.
4. Cook, stirring occasionally, for about 45 – 60 minutes. The leeks and onions will soften completely and deepen in color. If they start to caramelize too quickly, lower the heat. Remove the lid and cook more to let some of the moisture cook off, about 10 minutes.
5. Add broth and bring to a simmer. Cook for an additional 15-20 minutes. Add additional salt and pepper to taste.
6. While the soup simmers, slice the baguette into rounds at least ½ inch thick, and toast until golden and crispy.
7. Ladle the soup into oven-safe bowls and top with toasted bread. Top with a healthy handful of Gruyere and put under the broiler until the cheese is melted and bubbling. Watch as
it broils to make sure the toast doesn't burn.
8. Garnish with fresh thyme and serve immediately.