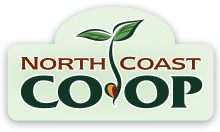 Do you know your neighbors? Whether you are new to your neighborhood or have lived there for 25 years, knowing your neighbors has always been an important part of a healthy community. During a crisis, it becomes invaluable because, after a disaster occurs, it's the people closest to you who can help most immediately.
I'm sure many in this community agree that the Co-op is a good neighbor. On Oct. 9, 2019 when power was shut off to all of Humboldt County, and much of California, we were reminded that the Cooperative Principle of Concern for Community includes simply being a good neighbor and staying open when the power is out. Because even without power, we all still need nourishing food and basic supplies—and, of course, community. Thanks to the preparedness of Co-op staff, both of our stores remained open during recent power outages, providing a space for people to use free Wi-Fi and charging stations, access current information, and connect with other community members—all while sipping hot beverages.
For me personally, these power outages were great practice to see how prepared I was for a large disaster scenario where I may be on my own and without power for a week or more. Following these power outages, I took note of what worked well and areas I need to focus on to improve my preparedness.
One thing that really worked for me was my community—as in my neighbors. I'm fortunate to be a neighbor of longtime Co-op member Lin Glen. She has taken the lead role in organizing our neighborhood to prepare for emergencies at a grassroots level. It is well documented that neighborhoods that are prepared for emergencies and disaster situations save lives, reduce the severity of injuries, and minimize property damage. Working together as a team improves quality of life within a community.
We call my neighborhood group a "pod." Within the group, we have learned that we can rely on each other during the hours or days before medical, police, or utility responders arrive following a disaster. Because I love my neighborhood pod so much, I want to share more about it to encourage you to start one in your own neighborhood. I asked my neighbor Lin to share her experience organizing our pod: "Blue Lake's neighborhood emergency preparedness 'pods' started about five years ago when local volunteer Dot Campbell held a community meeting in Blue Lake. A few people volunteered to work as pod leaders in their neighborhoods and the pods were born. We used forms to share contact information; some pods made maps of their houses, including the location of gas and water lines, [while] some had block parties, and we had a very successful community resource fair. The most important part was meeting face-to-face. We met more often at first and, now that we're organized, it's only two to three times a year.
Pods are usually limited to the number of people that can fit in someone's living room. Our pod has 14 households and our meetings have been about things like sharing our favorite emergency kit items, figuring out and planning for the most likely emergencies that could affect our neighborhood, taking part in California's annual Shakeout and, after the power shut-offs, learning about the safe use of generators and electrical power inverters.
I think everyone says the best thing about the pods has been getting to know our neighbors better and working together on emergency preparedness goals so we all feel safer and more connected—potlucks are great too!
Many people will say they already know their neighbors, but it makes a huge difference when neighbors share important contact information, when they add their neighbors as cell phone contacts for quick responses to emergencies and when they get together regularly to plan and practice what they'll do to help each other in an emergency, BEFORE it happens."
I agree with Lin that being part of a pod has really connected our neighborhood. It feels comforting to know you can rely on your neighbors for help. Plus, neighborhood preparedness really works. When the power was out in late November, we were able to rotate a generator between multiple households to keep refrigerators cold, even when two of the households were out of town. We shared information about which stores were open (the Co-op was!), and we helped each other out by doing shopping for each other to reduce trips and the use of limited car fuel.
Organizing
Organizing a neighborhood can take a bit of effort, but I hope you can see that it is well worth it. Here are some basic steps to start your own neighborhood preparedness group:
• Decide which families to include: Consider which houses are close together and which neighbors you already know. You don't have to include all the neighbors—people need to trust everyone in the group with their personal information.
• Choose a meeting date: Take flyers to each house and personally invite people.
• Collect contact information: Choose a personal information form that includes the names of everyone in each home, phone numbers and emails, addresses, work/school locations, number of pets, etc.
• Get to know each other: Have a social potluck to form or strengthen neighborhood bonds and help people feel more comfortable interacting and sharing information.
• Consider a skills/resources meeting: Find out what resources are available to be shared with the group. Are there members with medical skills or special knowledge? Does anyone have access to wood heat or a generator to share? Would they be a warming center in prolonged power outage in winter?
• Have an emergency kit meeting: Create an opportunity for everyone to assess the readiness of their supplies.
• Research and gather additional information: Contact your local police department or sheriff for emergency preparedness resources that could be helpful. Some preparedness neighborhood groups also incorporate Neighborhood Watch information into their groups. You can also contact your local Community Emergency Response Team (CERT) leader for resources by emailing humboldtcert@gmail.com.
Resources
There are endless online resources about preparedness. Here are three Lin and I recommend starting with:
• 'Map Your Neighborhood' can be a good resource. This website has links to many things you can use to organize your neighborhood, including step-by-step planning, worksheets and a series of videos.
islandcountywa.gov/DEM/Pages/Map-Your-Neighborhood.aspx
• Ready.gov has all the resources you need to make individual, family and neighborhood planning. www.ready.gov/plan
• Living on Shaky Ground is a great locally-developed resource for being prepared for earthquakes and tsunamis. www2.humboldt.edu/shakyground/
I understand being prepared can feel overwhelming, but you don't have to have it all figured out. Just focus on one aspect at a time. Being even a little prepared is better than not being prepared at all. If you aren't ready to launch a neighborhood group, start by simply getting to know your neighbors better. Research shows that people who know and trust their neighbors are more likely to report higher rates of health and well-being than those who do not. And don't forget, it's a lot easier to ask to borrow an organic onion—or whatever it is that you are out of while making dinner—if you already know your neighbor.
Disaster response involves everyone. The better prepared you are, the better you can help yourself and others. It's never too late to get to know your neighbors. ■