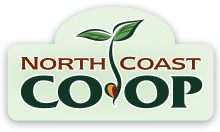 If the warm, powerful smell of bubbling butter isn't the first thing to reach your senses when you enter the commercial kitchen in Trinidad Town Hall, it's the warm, powerful spirit of the butter bubbler herself.
"I grew up in southern Georgia," Kate Brown says as she stirs three steaming pots of golden liquid with a long metal spoon. She's wearing a pink polka dot apron with flowers on it. "Butter, salt and pepper was what my mom and my grandma raised me on."
Kate is the owner of Cultured Life Food, a local company that uses ingredients from Humboldt and Del Norte counties (or as Kate says, ingredients that are "locally sourced from people I know") to make her products. She makes three flavors of organic ghee, which is made when water and insoluble fat has been cooked off or taken away from butter. What's left, besides an amazing liquid of golden bliss, is soluble animal fat that provides our bodies with essential fatty acids.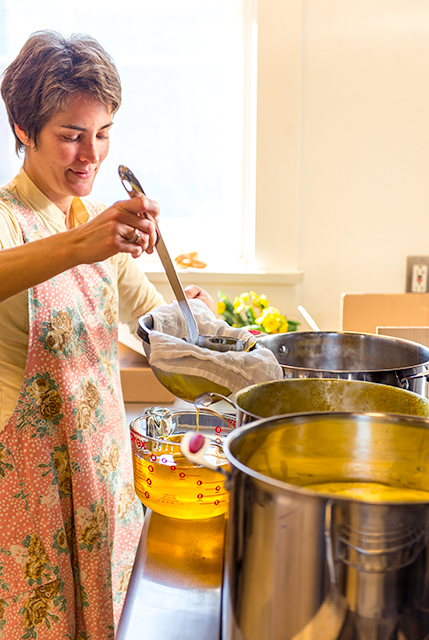 Kate also makes organic gomasio, a macrobiotic finishing product from Japanese cuisine, made with toasted sesame seeds, sea salt from Pacific Flake, a local salt maker in Eureka, and seaweed from Rising Tide Sea Vegetables. Kate says you could have it on top of rice, beef, fish, or vegetables. "I use it on top of oatmeal."
When Kate moved to Humboldt County 20 years ago, she started working with Rhonda Beck at Beck's Bakery, learning about small food production. When she thought about what she could do that made sense for her, she says, it was ghee.
"I love this area for being so forgiving and so experimental," Kate says. "I get to work with people from Humboldt and Del Norte counties. They're really hardworking, authentic people, and I really appreciate that a lot."
The cream Kate uses to make her ghee comes from Rumiano Family Farm, California's oldest family-owned cheese company. Their production style of butter leaves a lot of fat, she says, which is ideal for ghee making. Kate says Humboldt County is also ideal for ghee making for a lot of reasons—there are five different pasture grasses here that are loaded year-round with vitamins and minerals for the Jersey cattle, which are high dairy fat cattle.
Kate picks up cream and brings it to Trinidad, where she rents the commercial kitchen space. It takes ten hours to make ghee from 40 pounds of butter.
"I didn't want to make it a top-shelf product, meaning I wanted it to be accessible to all," she says. "When someone says, 'I have that at home, that's on my counter!' that just makes me really misty, because that's so personal."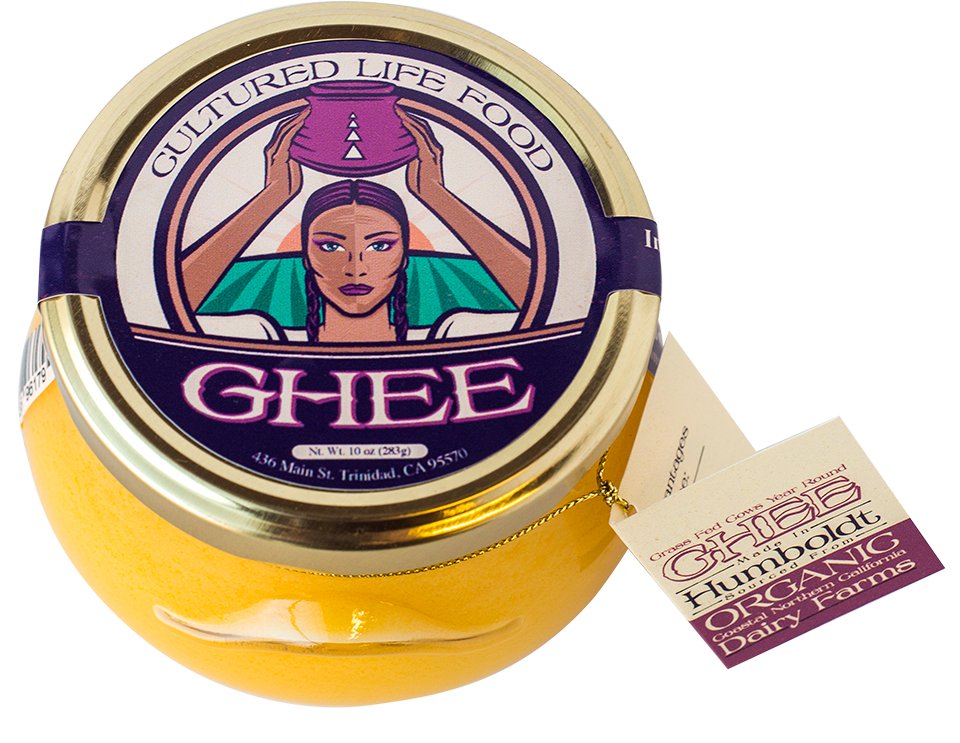 Ghee is more versatile than butter because it has a high smoke point (it can be heated up to 485 degrees) and people who are lactose or casein free can eat it, but you should check with your doctor first. It can also be eliminated through the liver. Out of the three flavors of ghee she makes (turmeric black pepper, plain, and salted), Kate says the plain is her favorite.
"I like it because it's so versatile," she says. "You can use the other ones for anything too, but I use the plain ghee for baking things, for sautéing things." (She also puts it in her oatmeal.)
In addition to her gomasio and all ghee flavors from Cultured Life Food, Kate makes quinoa flour with quinoa grown from Wild Rose Farms in Blue Lake. All of her products are available at both Co-op locations. Kate says when she thinks of stores to sell to, she thinks of co-ops. ("I like the people that go to co-ops. That feels good to me.") And, after receiving many orders from Oregon and Washington, Kate is considering expanding into a larger production space.
"You can serve forever," Kate says. "And food is a good way to do that. We're hungry forever."