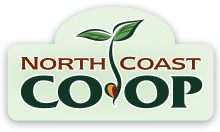 I have been enjoying being out and about, tabling at both stores as much as I can to be available to talk with customers and members. Some shoppers have questions about membership, some members have questions about purchasing B or C shares, some members stop to chat, ask general questions or to give input into what products we carry or what benefits/discounts we should have for members.
One of the most common things members mention is that they miss how in the past they could give a number at the register to support local non-profits. We have such a generous and caring Co-op community who are always looking for more ways to be of service. Fortunately, we do have a way to give right at the register.
One of the simplest, most effective ways for North Coast Co-op shoppers and members to give back to the community is through our Community Round Up program. Anyone can say "round it up" when checking out at the registers and the purchase will be rounded up to the nearest dollar amount—the rounded up funds will go to the Cooperative Community Fund, which supports local non-profits in our community (see New Member Benefit Launching April 15 for a glimpse of some of these organizations). You can always add whole dollars to your round up, if you choose. If we work together, our small change can equal big changes in our community! Last quarter the Co-op received $240.22 in round up donations. This number could easily be doubled or tripled if we just remember to say "round it up"at the registers!
Thank you for your generous support of the Co-op and our community! Please check out Cooperative Community Fund for more information and the many inspiring projects that were funded this year. You can also get more information for how to apply for a Cooperative Community Fund grant