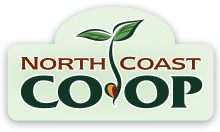 A New Way to Give
Longtime North Coast Co-op members remember a time when there was a long list of non-profit organizations at each register to choose to donate an additional 1% of your purchase to. The Register Donation program was an easy way for shoppers to donate to the organization of their choice. That giving program was replaced with a program where you could round up your purchase for the Co-op's Cooperative Community Fund, from which the Co-op grant funds to local organizations. If you're like me, perhaps you miss getting to choose who you are donating to, which is why we recently let members have a say in our new donation round-up program called Seeds for Change.
Local non-profits applied to participate in August, and members-owners voted in October, choosing nine recipients for the 2020 Seeds for Change Round-up program. Members chose Hospice of Humboldt, Zero Waste Humboldt, Friends of the Dunes, Northcoast Environmental Center, Area 1 Agency on Aging, Community Alliance with Family Farmers, Arcata House Partnership, North Coast Regional Land Trust and Redwood Coast Village. Additionally, three months will be dedicated to the Co-op Pumpkin Patch, Co-op Month Twin Pines Fund and Food for People.
Starting January 1, you can round up your purchase each time you shop. All funds donated at the register are given directly to the recipient organization at the end of each month. The inaugural Seeds for Change Round-up recipient during the month of January was Hospice of Humboldt. Hospice of Humboldt has been providing heartfelt end of life care and grief support services to all who need them in our community for 40 years. Hospice envisions a community in which no one dies alone or afraid, and all who grieve are comforted. When you round up at the register during January, you are helping support the free services and programs Hospice provides to their patients, their families, and the community. All Hospice grief support groups are offered at no cost and are open to the entire community.
Zero Waste Humboldt is the February round-up recipient. Their mission is to reduce waste, including material reuse, recycling and composting. Their top priority is proactive waste prevention strategies to reduce waste generated in the first place. In 2020, Zero Waste Humboldt is initiating an ongoing Zero
Waste training clinic and certification program for businesses, schools and large outdoor events. Funds raised at the register in February will help with waste training and reducing the proliferation of single-use products and packaging —especially plastics.
Rounding out the first three months of the Seeds for Change program is Friends of the Dunes during the month of March. Friends of the Dunes is dedicated to conserving the natural diversity of coastal environments in Humboldt County through community supported education and stewardship programs. Funds raised from Seeds for Change will be used to support free environmental education and stewardship programs, including guided walks, field trips for school kids and coastal restoration activities. These programs benefit youth and other members of the community by providing free opportunities to get outside and learn about the natural world we share.
The Co-op's Cooperative Community Fund (CCF)
isn't going away, we are simply growing our opportunities to give. We will continue increasing our CCF fund through paper bag sales and direct donations. The Co-op will continue a granting program to local nonprofits from our CCF fund in addition to the Seeds for Change program.
I hope you will join me in supporting the Seeds for Change recipient organizations and their efforts to improve our communities by rounding up each time you are at the register. Simply ask your cashier to "round up" when you're checking out. For example, if a purchase is $10.75 and you rounded up to $11.00, the remaining $0.25 would be donated to that month's organization. It's that easy and yet quite powerful when all those small donations of change are added up at the end of the month. ■