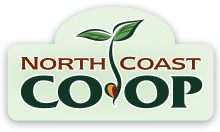 As with most successful projects, the magic is always in the details. To succeed in the Co-op's larger plan of environmental responsibility, as outlined in our 20-Year Statement of Sustainability, we must meticulously track operational details and purchases. The data produced is a necessary, perfect resource for setting new goals and celebrating progress.
One of our goals is for the Eureka remodel project to result in zero environmental impacts, including waste, energy, water, and greenhouse gas emissions (for more details on the remodel, see Excitement Builds as Eureka Remodel Nears). We developed a Net Zero Impact Plan to measure these impacts over a five-year period from the date of completion. Data is a major part of the Net Zero Impact Plan—historic and current operational data is being collected.
Along with tracking what we bring in, we must also track what we send to waste streams. There are essentially three waste streams we are interested in tracking: landfill-bound waste, recyclables, and compostables. Within these categories we can create smaller subcategories such as donated foods, donated supplies, post-consumer compostables, and even livestock feed. By getting creative and connecting with our community, the Co-op can often find a second use for waste which ultimately minimizes what ends up going into our landfill waste stream.
WHERE WE'RE AT
The Co-op currently collects data for past energy use, water use, waste generated, waste diverted, food saved by donation, compostable material, durable container use, and disposable container use. We depend on our local community to creatively reuse the items we are done using, so we donate our supply of outdated pin buttons and old vinyl banners to local organizations, instead of tossing them in a trash compactor. We also share our supply of packing peanuts and ask our vendors to help us minimize excessive packaging by considering the types and amounts of packaging they send in our orders.
When creative reuse has been exhausted, we look towards our partnership with the Local Worm Guy to compost what can't be reused, but can be composted.
It is very important to note that not everything can be composted. Only food scrap, food soiled paper, or certified compostable materials made from PLA or "bio-plastics" can go in our compost bins. Items made with PET plastics and linings made from petroleum resins may look similar but can never be composted by us. Our compost is hand sorted multiple times to reduce the chance of plastic contamination from these items.
At the Co-op, we not only sell many of our products in certified compostable cups and containers, but most importantly, provide the actual composting service. Through the tri-sorting bins found in front of our stores, we are able to collect our customers' compost as well as our internal compost of inedible food scrap made during bakery and prepared foods production, and paper napkins from handwashing. We even have compost bins in our employee breakroom!
Check out the graph below to see how the Co-op compost story is being written!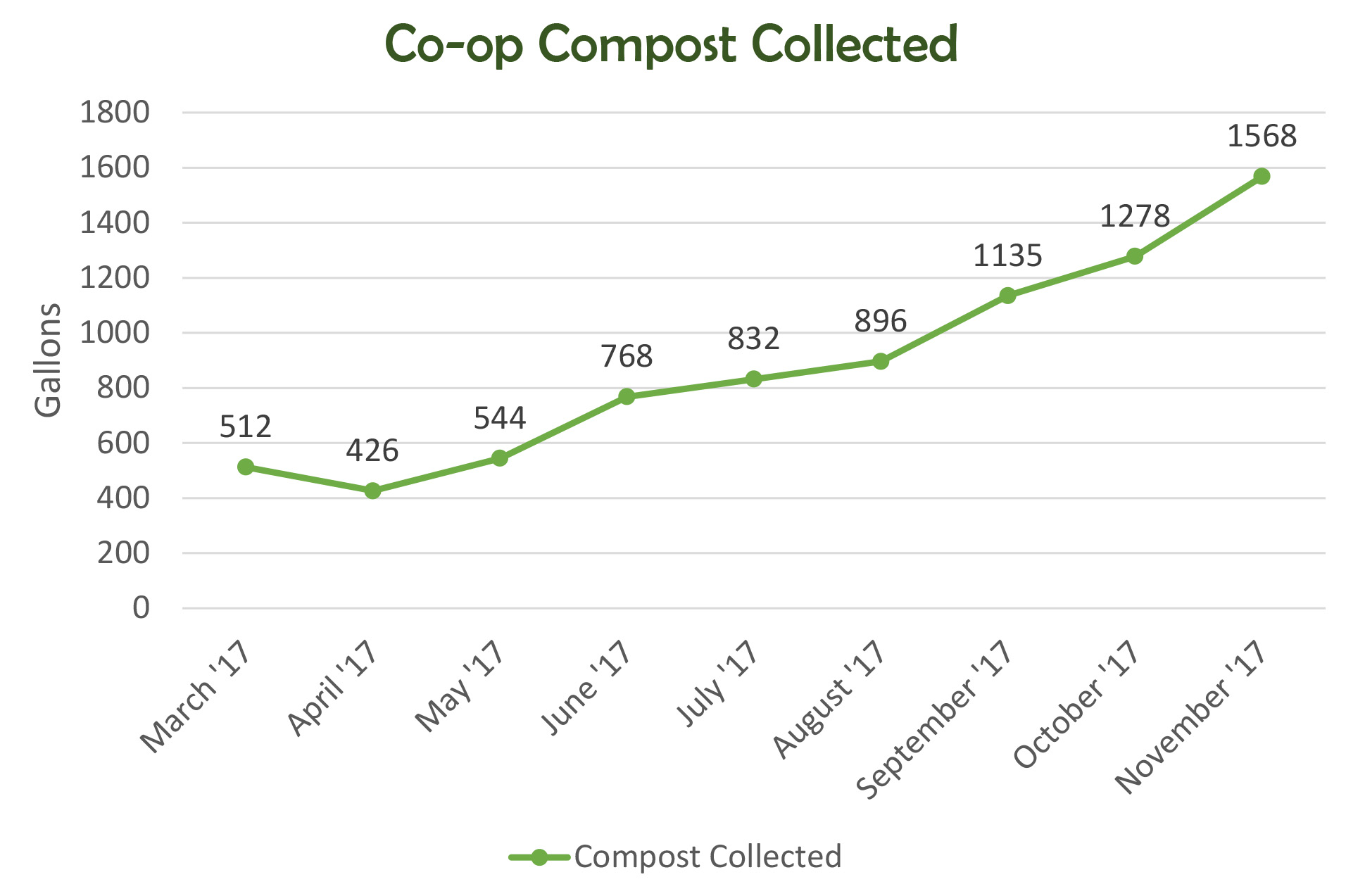 WHERE WE'RE HEADED
We are focused on sharing our data with our members as well as updating them on progress we are making. A comprehensive sustainability report will become a regularly released item. We are looking forward to creating even more compost-sorting education opportunities both internally for our staff and externally for all our shoppers. Sorting our compostable items properly is integral to a successful Co-op compost story.
While composting, creative-reusing, and recycling is wonderful and helps minimize waste streams, we also are developing more ways to reduce the amount of waste generated in the first place. This means focusing on bulk, local items, durable container use, and even changing the way we receive local products. While we have always welcomed our customers to use durable containers, we want to take it further by celebrating and incentivizing the use of durables and reusables across all departments store wide!
I would like to extend a sincere thank you to all of our employees, members, and shoppers who take the time to participate in new sustainable programs, as well as those who ask questions and offer suggestions about how we can continue on the journey to a zero-waste future and a more sustainable Co-op.