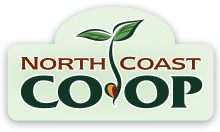 This fall, try making one (or all) of our Simple Seasonal Soups. They're easy, warming and delicious!
Mushroom Herb Stew

3 Tablespoons olive oil
1½ pounds assorted mushrooms
1 teaspoon salt
2 large yellow onions, medium dice
4-6 cloves garlic, minced
1 Tablespoon fresh rosemary
1 Tablespoon fresh thyme
2 bay leaves
4 cups vegetable or beef stock
3 Tablespoons tomato paste
1 Tablespoon Worcestershire sauce
1 Tablespoon tamari
3 carrots peeled, cut large
4 celery stocks peeled, cut large
Fresh parsley, minced
Heat stock pot or Dutch oven over medium heat, add olive oil. Rinse mushrooms, add to pot with ½ teaspoon salt.
Cook mushrooms until browned, remove and set aside.
Add onion and add remaining 1/2 teaspoon salt to the pot. Caramelize, about 15 minutes, at low to medium heat. Add garlic, rosemary, thyme, bay leaves. Increase heat to simmer, stirring constantly.
Add stock, tomato paste, Worcestershire, tamari, carrots, celery, and mushrooms. Bring to boil over high heat, reduce and simmer and cover, stirring occasionally until carrots are tender, about 20-25 minutes.
Top with fresh parsley
---
Timeless Tomato Soup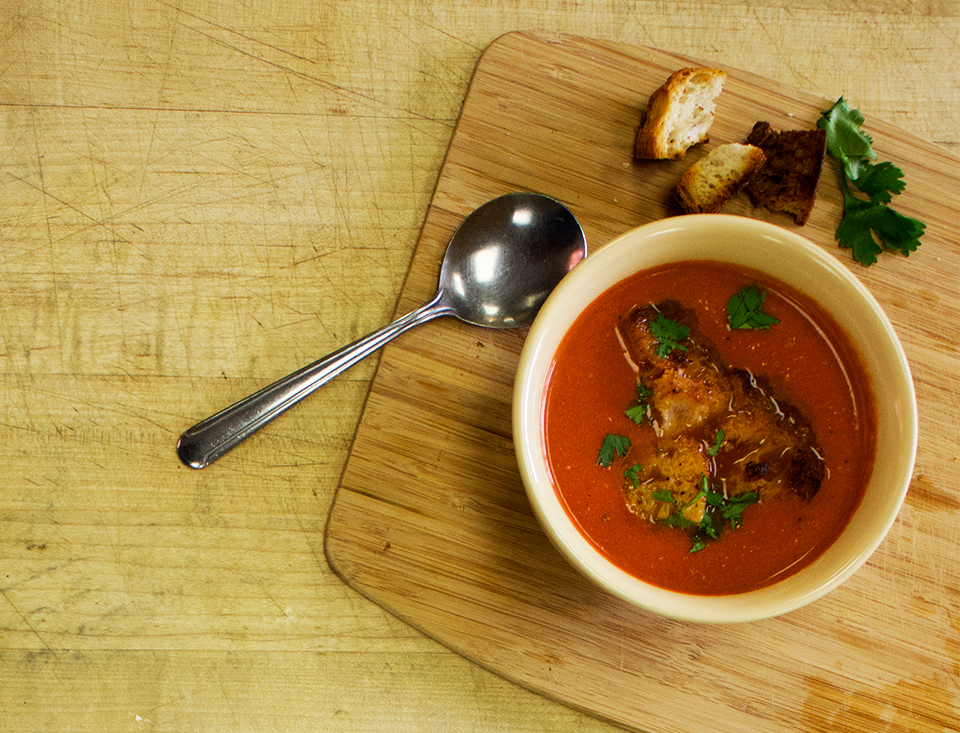 1 Tablespoon olive oil
1 Tablespoon unsalted butter or butter alternative
1 medium yellow onion, diced
2 medium garlic cloves, minced
1 can whole peeled tomatoes with juice (28 oz.)
1 ½ cups chicken or vegetable broth
1/3 cup heavy cream or dairy alternative
Olive oil to drizzle
Place medium saucepan over medium-low heat, add oil and butter. When butter melts, add onion and 1/4 teaspoon of salt. Cook until onion is completely soft, stirring occasionally for 15 minutes. Add the garlic and cook for five more minutes, stirring occasionally.
Increase heat to medium and add tomatoes and their juices to pan. Roughly crush tomatoes and cook until hot and beginning to soften, about 10 minutes. Add broth and bring to a simmer. Cook at medium and simmer until tomatoes being to fall apart, about 15 more minutes.
Remove soup from heat and let cool about 10 minutes. Using an immersion blender or counter top blender, carefully puree soup in batches until smooth. Return soup to low heat and stir in cream. Add black pepper and salt to taste. Drizzle with olive oil before serving.
Top with fresh basil, parsley, or finely chopped oregano
---
Pasta e Fagioli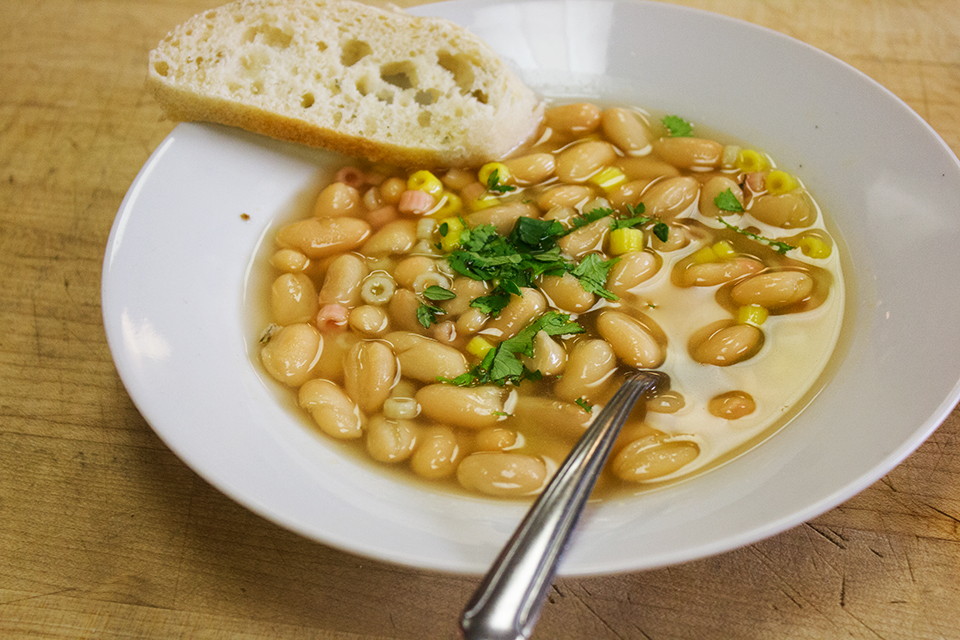 1 pound white cannellini beans
1 cup olive oil
1 clove of garlic, unshelled
1 bay leaf
Salt to taste
½ pound small diameter macaroni
1 teaspoon crushed red pepper
Put washed beans in salted water (three parts water to one part beans). Soak beans overnight or bring to boil, boiling for two minutes, and let stand, covered for 1 hour. Do not drain beans but bring to a boil. Skim off foam and add oil, garlic, bay leaf and salt to taste. Simmer beans until tender, roughly 2 hours.
Cook the pasta in 2 pounds of unsalted water until al dente, drain but save 1-2 cups of water. Stir pasta and crushed red pepper into beans and simmer until pasta is fork tender. Add saved pasta water as needed to thin soup.
Alternatively: Simmer smoked ham hock, chopped ham or bacon or soup bone with beans for added depth and flavor. Add salt with caution as the pork will add salt to the dish naturally.
Top with parsley, salt & pepper to taste
---
Rustic Root Soup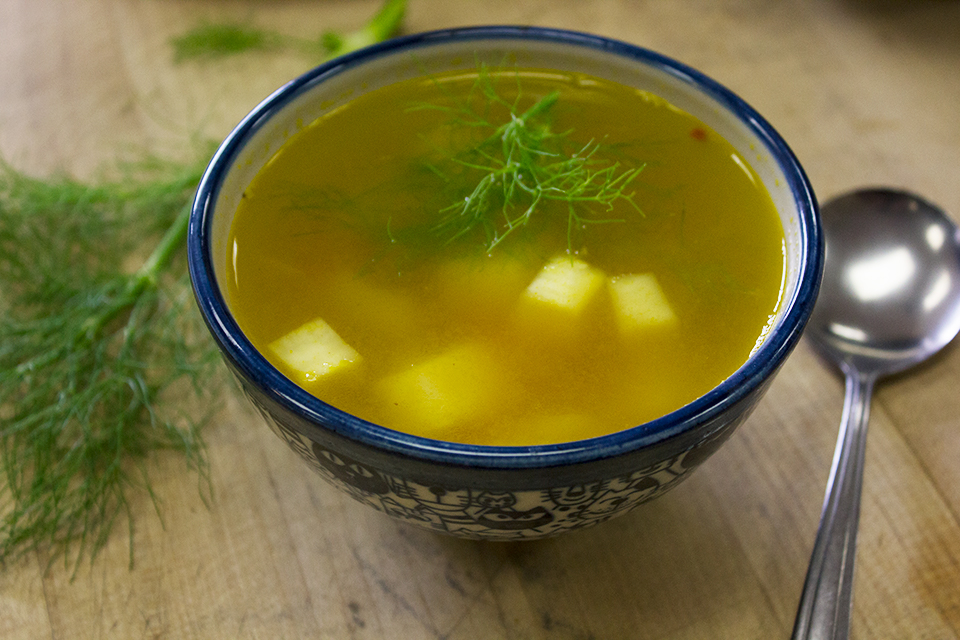 1 Tablespoon olive oil
1 medium yellow onion, diced large
1 teaspoon fresh rosemary
2-4 Jerusalem artichokes, peeled and cut into large cubes (8 oz.)
2 medium parsnips, peeled and diced large (12 oz.)
2 medium Yukon gold potatoes, peeled and diced large (12 oz.)
1 medium turnip, peeled and diced large (7 oz.)
1 medium carrot, peeled and diced large (5 oz.)
1 medium celery root, trimmed, peeled and diced large (20 oz.)
1 medium fennel bulb, stalks trimmed, cored and diced large (12 oz.)
6 cups low-sodium chicken or veggie broth
1 Tablespoon fresh lemon juice, plus more to taste
Red pepper flakes to taste
1 Tablespoon kosher salt, plus more as needed
Heat oil in a large stock pot or Dutch oven over medium heat.
Add onion and cook until softened, stirring occasionally.
Add rosemary, the remaining diced vegetables and salt, stir to combine and cover with a lid. Cook at medium heat, stirring every 5 minutes, up to 20 minutes until veggies begin to soften but still maintain their shape.
Increase heat to medium-high, add broth and stir to combine. Bring to a simmer, then reduce the heat to medium-low and simmer uncovered, stirring occasionally until veggies are fork tender.
Remove from heat and add lemon juice and red pepper flakes. Taste and season with salt, pepper and additional lemon juice to taste.
Top with a drizzle of olive oil