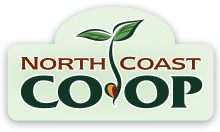 On Jan. 25, North Coast Co-op awarded $20,000 to twelve local nonprofits and schools in Humboldt County through our Cooperative Community Fund (CCF).
CCF is a permanent endowment established and directed by members of North Coast Co-op since 1990. Every year, North Coast Co-op awards CCF grants ranging from $500 to $2,000 to projects that focus on sustainable agriculture, food security, and food nutrition and education.
In addition, CCF funds the Co-op's Pumpkin Patch, an annual event in which more than 4,000 school children across the county take an educational field trip to a local, organic working farm to learn about food systems. Participating students leave with the pumpkin of their choice.
Administered through Humboldt Area Foundation, CCF is grown by direct contributions from community members who round up to the nearest dollar at the cash registers in Co-op stores—just say 'round it up' and the Co-op will donate the difference to CCF. All monies from purchasing a ten-cent paper bag at checkout are also donated to CCF. In addition, tax-deductible donations to CCF can now be made online through the Humboldt Area Foundation by going to www.hafoundation.org/coop.
The Co-op is grateful to all of our community organizations for serving our community and our members and customers who round up at the register to support CCF. Together, we make a difference!
2017 Grants:
Bear River Band of the Rohnerville Rancheria, "Youth Garden Project"
Dream Quest Willow Creek Youth Partnership, "Garden to Teen Program"
Food for People, "Reducing Waste and Increasing Food Security through Food Recovery"
Fuenta Nueva Charter School, "School Garden Science Program and Farm to Cafeteria"
Healy Senior Center of Southern Humboldt, "Senior Nutrition Program"
Humboldt Area Center for Harm Reduction, "Harm Reduction Through Healthy Food"
Humboldt Botanical Garden, "Community Outreach Vegetable Garden – Garden Tools!"
Humboldt Library Foundation, "Nutrition Books for Children's Collection"
Humboldt Senior Resource Center, "Local Harvest for Senior Health"
Northern California Indian Development Council, Inc., "Annual Northwest Intertribal Gathering and Elders Dinner"
Westside Community Improvement Association, "SEEDS After School Enrichment Program"