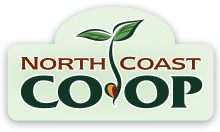 Every winter, the Produce Department Heads (Joey Beasley in Eureka
and Paul Wright in Arcata) and I sit down with our local farmers to help determine what crops we can expect to see on our shelves throughout the year. Our goal at the Co-op is to provide our community as much local produce as possible; in fact, as much as 80% of our produce is local in the summer! Of course, there are some items that can't be grown in our climate, but if it can be, we want to have it on our shelves.
At these yearly meetings, we check in with each farm individually and hear the wonderful things that are 'growing' on. There are over 300 different locally grown products that we strive to have available, and we coordinate that availability with the various farms. Each product is called an "account"; for example, a large variety of peppers can be grown here, and each variety would be an account. We have a red bell pepper account, a green bell pepper account, an anaheim pepper account, etc. One of the beauties of living here is that we have many microclimates, which means that a specific product may be available at different times from different farms. As we strive to be equitable to all our farmers, and ensure they know what to expect, we assign a primary farmer to each account. That is, we only buy a product from the primary farmer, unless their supply cannot meet our demand, in which case we source from the secondary farmer assigned to that account.
During our annual meetings, we share our entire year's purchasing plan with each farmer, allowing them to plan for the coming year. They get an idea of how much space they need to dedicate, and plan for successive plantings; they are also able to see gaps in other farmers' expected production, and add to their annual plan. There are also some items that we are not currently receiving locally, and we show the farmers our wish list. The result is that farmers often walk away with plans to better maximize their land, knowing they have a buyer before they plant.
After the meetings, I compile the information into a spreadsheet (a projected calendar) that shows when we expect to see the produce available. Of course, this would be in an ideal scenario—germination goes well, we receive the right amount of rain and sun at the right time, and there are no problems with pests or predators.
Each week, Joey and Paul let me know what we have received, and another spreadsheet is created (the actual calendar). At the annual meetings, we can compare the two calendars, and talk with the farmers to get a better understanding of what occurred. I love getting a glimpse at what has happened over the past year, and to connect with our neighbors who are providing so much wonderful produce for us. This annual review helps determine what we can expect in the coming year.
When you see our local logo in our Produce Department, you know that you are helping to support our community and eating some of the most delicious food around! Our annual farmer meetings are just another way we have been making local meaningful for decades. When you can't make it to the farmer's market, the Co-op is the next best thing.
Notice
: Undefined offset: 1 in
/var/www/vhosts/northcoast.coop/htdocs/co-op_news/posts.php
on line
244
Notice
: Undefined offset: 1 in
/var/www/vhosts/northcoast.coop/htdocs/co-op_news/posts.php
on line
244
Notice
: Undefined offset: 1 in
/var/www/vhosts/northcoast.coop/htdocs/co-op_news/posts.php
on line
244