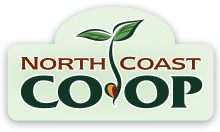 The interest in eating local foods continues to grow. We all know how much better those strawberries taste when they are picked and eaten when ripe! Produce grown locally can make it to the dinner plate much quicker, with a very tasty result.

Thanks to a grant from the North Coast Co-op's Cooperative Community Fund, the Humboldt Senior Resource Center will have the opportunity to bring two local, fresh meals to the Senior Dining Centers and Home Delivered Meals participants this summer and fall. The participants who attend the Eureka Adult Day Centers will also have the opportunity to enjoy these meals with wonderfully fresh products. On these "Nearly Local" Days, we will serve produce grown right here in Humboldt County, along with local cheese, locally made bread and more. Last year we served Humboldt County pork, produce from Korbel and Fortuna, bread from Arcata and milk from local cows.

Tina Taylor, Food Service Manager, happily shares: "Thank you to the Co-op for the opportunity to use fresh, local products for these special meals. We have the Co-op to thank for getting us involved with using fresh local products."

The Humboldt Senior Resource Center has dining centers in Arcata, Eureka and Fortuna and provides home-delivered meals for homebound elderly from McKinleyville to Fortuna. Lunch is served Tuesday through Friday at the dining centers. Everyone is welcome. For people who are 60 and better, there is a $3.50 suggested donation; no one will be turned away for lack of funds. For those under 60, there is a $6.00 suggested donation. Call 443-9747 or visit humsenior.org for more information.