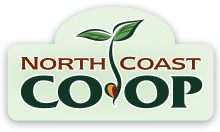 Membership is hopping! The Marketing & Membership Department has settled into our home upstairs in the Eureka store, from our previous spot in the Ten Pin Warehouse, and are enjoying the hustle and bustle of the new location of our department. We can hear the clamor of shoppers, see our local farmers deliver produce and smell the delicious hot bar foods being prepared in the new kitchen. Being in the center of the day-to-day activities of one of the stores, and so close to our members, is energizing.
A new Membership Coordinator joined the Co-op's Marketing & Membership team in June, which has added to the fun. Margaret Sataua has a long history at the Co-op and is excited about her new role working for our members. Learn more about Margaret on page 5 of this edition of Co-op News.
In the coming months, Margaret will be preparing for the Co-op's Annual Membership Meeting & Celebration which will take place this year on Saturday, October 12. She will also be completing the annual statements that will be mailed to members detailing their patronage for our last fiscal year and their share investment in the Co-op.
In last year's summer edition of Co-op News I shared the Co-op's plans to begin cleaning our membership rolls. We've made great strides in correcting and updating member addresses and pairing former members with uncashed patronage refund vouchers or dividends distributed to their membership after they were closed. That work continues, and we thank all those members who have responded to letters and emails seeking updates of their contact information.
We welcome new members to the Co-op every day. Any and all members, new or long-term, are encouraged to contact the Membership department with any questions they have about the benefits of membership, investing in shares, or getting involved as a member. Reach out to us at membership@northcoast.coop or call 707-443-6027 ext 434.