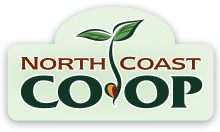 BYO & Save
Changing habits is hard work, the Co-op is hoping to make it a little bit easier to shift shopping habits with this new "Bring Your Own" reminder. The BYO reminder is short and sweet and to the point! We want you all to know that bringing your own clean durables of any kind helps the co-op reduce the amount of waste leaving our stores. It can be a jar, a fork, a napkin, a mug, produce bags, shopping bags, any container big or small. Any durable you bring and use is one less disposable item leaving our stores.
Our very popular "Own Cup" discount evolved into an even better "Durable discount" and has been used 2,112 so far this year! Many of you may already be enjoying your extra $0.25 discount when using your own containers but for good measure here is a refresher on how to save $0.25 within our Prepared Foods Department. The Durable discount gets any shopper $0.25 off at the register when they bring in clean durables (like a food-safe container, mug, travel cup, or food lunch box) and allow Co-op staff to fill your durables for you within our Prepared Foods areas. This discount is valid within Prepared Foods which includes the deli, bakery, and drinks bar!
Normalizing safely shopping with clean durables as often as possible is crucial to reduce our environmental impact and offers a way for shoppers to directly help us minimize our waste stream!
Of course, reducing waste should not be a battle that individuals face alone that's why the Co-op is working very hard to take responsibility for single-use materials as much as possible and a major part of that is not only making durable use in our stores an accessible option but also making it as easy as possible by offering reminders and certain durable discounts within our Prepared Foods department where it may be a new experience for shoppers to use their own containers. We know life happens and sometimes single use packaging is the only option and that's why we are working hard to have as much fiber and plant-based packaging in our stores as possible, but we'd still appreciate the help from our shoppers in making BYO normal and habitual too.
The Co-op has accepted customer containers or durables in store since forever but we're hoping to make it a little more approachable so that we can see widespread BYO confidence.
To some using your own container is completely synonymous with the Co-op and to others it's a completely new opportunity to learn about low waste habits. If you are already familiar and comfortable with BYO we invite you to be as welcoming, understanding, and encouraging to new BYO users who are new to the Co-op way and could use a great example from other shoppers!
So here's your invitation to bring your own clean durable of almost any kind, it's okay if your lids don't match it's okay if it's not stainless steel or glass it's okay if you have questions and it's okay if you're a little nervous. The Co-op is here to support you just like you're supporting us on our commitment to lower our waste.