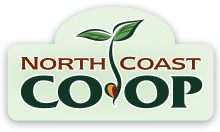 Inside Our Co-op
The Co-op is committed to environmental and social responsibility both within our stores and in the greater community. Here's a quick update of the current ongoings regarding our sustainability efforts.
Inside Our Co-op:
In our stores, there is a lot of exciting new additions jumping off our shelves. We're finding and adding more and more brands that are prioritizing plastic-free shipping and packaging. Many other new lines are small brands with big integrity, pure ingredients with less fillers, irritants, and with no hiding synthetic scents or colors. It seems like many companies both large and small are hearing our demands for earth-friendly business with unadulterated products and packaging and are stepping up to the challenge. Logistics may still be tricky, but it looks like we are on the right path.
Our member-owners are the community and people who we are serving. So we want to know if you try something awesome and love it. If you see something that you think needs to be evaluated, let us know that too, we'll always search for a better alternative because things can change quickly and there may be a replacement already available to us!

Out In The Big World:
A lot of environmentally minded major legislation and policies going into effect in 2023 both at the state and local level. Check it out:

State Law SB 1383
Reduce short-lived climate pollutants (especially methane from landfills) by diverting organics from landfills by means of required diversion and composting of inedible organics waste while also requiring higher rates of edible food-rescue (20%).
State Law AB 1200
California has a phased PFAs ban on toys (2021), childcare materials (2021), food packaging (2023), cookware (2024), and cosmetics (2025).

State Law AB 1826 (superseded by SB 1383)
Mandatory organics waste recycling (composting) for commercial businesses and 5+ units for multi-family dwellings.

Arcata Ordinance No. 1527
A dual-purpose ordinance within the city of Arcata that charges a minimum fee of $.25 for ready-to-eat food packaged in Single Use Disposables (SUDs) and concurrently offers a $.25 discount when durable containers are used instead of SUDs. The scond purpose is to reduce single-serving plastics and plastic bottled beverages and on city property. The Co-op is choosing to offer a $.25 discount for EACH durable container used for our Prepared Foods & Beverage Bars.

State Law SB 343
Addressing plastics recyclability marketing and misleading recyclability claims.

Thanks for reading our Sustainability Snapshot! We've got lots of new eco-friendly developments happening in our stores and in the larger community. Visit the online version of this article for links to more information on each of these new policies at www.northcoast.coop/coopnews, and let us know if you have any questions or feedback by sending an email to sustainability@northcoast.coop.