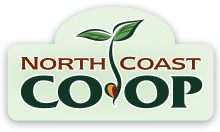 The Co-op's 50th Anniversary
We're thrilled to announce that our 50th Anniversary Celebration for Co-op member-owners is on the horizon! We've been receiving your eager inquiries, and we're excited to share the preliminary details of this momentous occasion with you. Our 50th Anniversary Celebration will be held on Sunday, August 20 at the Arcata Community Center.
Mark your calendars and join us as we commemorate half a century of committing to providing the best local, organic, and sustainable products while engaging members through consumer education, community building and environmental responsibility. Although the specifics of the event are still being finalized, members can expect an incredible gathering of friends, food and fun to honor our journey together.
In the lead-up to our big day, we're asking for your treasured memories and photos involving the Co-op. Whether it's a heartwarming encounter in our aisles, a beloved bakery treat, a life-changing moment connected to the Co-op, or snapshots of you and your loved ones shopping or working at the store, we want to hear it all and see it all! To share your stories, you can:
Email us at co-opnews@northcoast.coop
Leave a note at Customer Service
Message or tag us on social media
Stop by one of our Membership tabling sessions in the coming weeks (schedule available at northcoast.coop/calendar).
We're looking forward to celebrating this milestone with
you, our member-owners, who have contributed to the Co-op's success over the years. Stay tuned for more information about our 50th Anniversary Celebration, and don't forget to save the date!