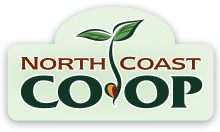 North Coast Co-op is dedicated to supporting our business community and showing love to our member-owners, so we created the Business Partner Program. Bring your Co-op membership card to participating local businesses to get exclusive discounts and deals! Not a member?
Don't have a card? See Customer Service!
(10% off one item per visit)
San Francisco is home to the first creative reuse center in the U.S., and Arcata was home to the first recycling center in the U.S., so it was only natural that a creative reuse center developed in Humboldt. Inspired by the pioneers of the former Arcata Community Recycling Center, Patti Johnson, Spring Garrett and myself saw the need for a local nonprofit creative reuse center, and SCRAP Humboldt was born in 2012.
SCRAP Humboldt is multi-faceted. Our mission is to inspire creative reuse and environmentally sustainable behavior by providing educational programs and affordable materials to the community. In our store, our volunteers and staff process tons (literally) of donations of unique materials from individual community members, businesses, and nonprofits from all over Humboldt County, and sometimes beyond. Our education program goes into classrooms with SCRAP at School, hosts summer camps and birthday parties, leads skill building workshops and collaborates on community events.
We chose to be a part of the Co-op's Business Partner Program because we are a nonprofit that embodies reuse and waste reduction practices and supports the local efforts of the Co-op. Home to items for your next craft project, or paper to wrap your presents, your purchase at SCRAP supports an environmental arts nonprofit, local community waste diversion and education programs, and creates jobs! How great is that?! -Tibora Girczyc-Blum, Special Projects Coordinator
(5% off)
In November of 2003, Mirador Glass was created. The business began working from a small garage where beautiful handmade tableware, stemware, cups and mugs were created. The passion for creating handblown glass objects soon drew Mirador to expand their product line to include unique, vibrantly colored lampshades—each personally signed by the glass blower. Mirador's great reputation was grown locally by offering free in-home consultations and is proud to still offer this service.
Mirador has a breathtaking gallery where customers are invited to shop from a wide selection of in-stock items. If you are unable to find what you are looking for in the gallery, the Mirador team would be happy to talk with you and create a plan for a custom piece. The Mirador gallery also has a large viewing window where customers can sit back and watch the glass being blown by any one of the artists in the Mirador studio. -Bryan Raskin, Owner
(Free tasting)

Before opening my business in August 2015, I'd spent 15 years in Napa and Sonoma working in wine production and as a Winemaker for the last eight of those years. I had been wanting to start my own business and was really enjoying dry ciders I'd discovered from the East Coast. I grew up in Freshwater and remembered that Humboldt County certainly has a lot of apples in our county and I knew of the history of Albert Etter and his apple legacy. At the time, I was living in Sonoma County. Cider was really taking off down in Western Sonoma, where I lived, and I was curious about making it. All the pieces seemed to fall together in an uncanny way and within a few months I was up here making plans to open a cidery and winery.
I am working with local apple farmers in Humboldt County, and take apples from the farmers that may be too small or have a blemish and ferment them into cider. This gives the farmer income for what previously would have been left on the ground or composted. The high point for me of the 2015 season was one grower telling me that the income from the apples sold to me made all the difference financially for him in a very tough year. I am especially proud to put the farm's name on the bottle to honor these growers and the place where the apples are grown. I also give the apple pressings to a local pig and cattle farmer here in Arcata to use as feed. Since I began, I have supported several local nonprofits with donations for fundraising.
The Co-op, from the beginning, has been a great supporter of my business. I love how it truly embraces local farmers and producers of local products. I have such a wonderful relationship with the buyers at the Co-op and really appreciate the support they give to my ciders and wines.
I think that a bottle of Wrangletown Cider or a bottle of my wine under my North Story Wines label is a wonderful gift, especially to someone from out of the area who would enjoy something from a small, craft producer right here in Arcata. -Pat Knittle, Owner