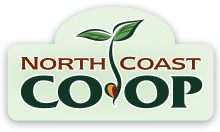 We are now accepting applications for Seeds for Change 2021! North Coast Co-op invites tax-exempt, local nonprofit organizations to apply for its Seeds for Change Round-up Program.
Seeds for Change is a community giving opportunity that allows Co-op members and customers to round up their Co-op purchases to the nearest dollar with those extra cents given directly to a local organization that is working to better our community. Each month, a different member-selected recipient will receive the round-ups collected in the store that month. It's a simple but powerful way for the Co-op to engage its members and shoppers in fulfilling the international cooperative principle of caring for the community.
Interested nonprofit organizations can apply now through October 15 to be considered for the Seeds for Change Round Up Program. All qualified organizations will be put on a list for a member vote in November. The top organizations selected by the Co-op's membership will get a spot in the program and will be announced in early December. An expected donation for a recipient organization is $1,000-$5,000, and possibly more.
Applications for 2021 Seeds for Change Round Up partners are being accepted through October 15, 2020.
For more information and to download the application go to: https://northcoast.coop/content/Seeds%20for%20Change%20Application_2020%20fillable_1.pdf