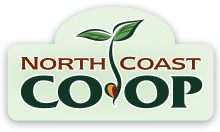 Each year, North Coast Co-op partners with North Coast Growers Association, Locally Delicious, Food Policy Council, Food for People, Community Alliance with Family Farmers, and other local non-profits for the Humboldt County Board of Supervisors to declare September as Local Food Month and inspire our community in pledging to eat local for the entire month. Last year was the tenth year of Humboldt Local Food Month, and we are excited to once again participate in our timeless tradition.
In my new position as the Demo Coordinator I dug into the history of the Eat Local Challenge, seeking inspiration in the early potlucks and vendor events that the Co-op and local non-profits put on. Most interesting was a document titled "First Meeting—March 24th, 2009" in which the following outcomes were outlined:
Our community will have a greater appreciation for the food grown and produced in our bioregion
Our community will have a greater appreciation for the farmers and food producers in our bioregion
Our community will be inspired to grow and/or produce foods that are currently unavailable in our bioregion
The Co-op will partner with local non-profits to increase access to nutritious and safe foods in our community
Local businesses will be inspired to provide greater access to local foods
A stronger sense of community will be formed between the Co-op, its members, non-profits and the business community
When I apply these ideals to the Co-op and in our community today, I can see the direct effects many programs throughout our local region have. Just this year the Co-op developed the Co-op Access Program, which helps all interested members of the community access the benefits of Co-op membership and of shopping at the Co-op, regardless of their income. We also introduced the Business Partnership Program, linking our co-op memberships to exclusive discounts at participating businesses throughout the region.
Co-op member-owners continue to round up at the register to support our Cooperative Community Fund, supporting the development of food-related education and businesses, as well as Co-op Pumpkin Patch. We continue to sponsor and donate to events that support our community's knowledge about food systems, water security, and waste management.
Our community continues to grow as businesses and companies rejuvenate and diversify our neighborhoods with unique and delicious products and services. Participating in Local Food Month and the Eat Local Challenge is a small way to give back to our local farmers who persist in expanding the choices in vegetables, herbs and fruits available to us through our local natural foods stores and farmers' markets.
This year, local eggs, meats, tofu, honey and the addition of local salt has me incredibly excited to kick off the Eat Local Challenge. So much so, that here at the Co-op we are going to prepare for the event starting in August. There will be a full calendar of local produce demonstrations and local vendor visits to get you revved up and prepared with recipes and shopping lists to enliven your passion for truly local meals to share with friends, family, and community.
You will be able to sign up for the Local Food Challenge at Customer Service at both Co-op locations starting on Sept. 1, but the opportunity to embrace local products will continue throughout the month with a calendar full of farm tours, movie screenings, tastings, and more. Keep track of all the Eat Local Month events throughout our community at Humboldt Local Food Month.