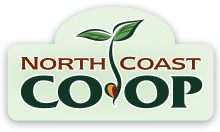 Choose Local!
It's week 3 of our Sustainable Summer Challenge! Every week this summer, for six weeks, we'll be sharing a new easy way you can make the most of summer while still reducing waste and promoting sustainability. We invite everyone to participate by trying out the week's challenge and sharing photos of your activities on Facebook or Instagram. Tag us in your posts on either platform for chance to win a $50 gift card! You can also email us a photo at co-opnews@northcoast.coop and we will feature them on our social media pages! A winner will be selected every week, so submit your photos for the week's challenge by Friday.
Week 3: Choose Local!
This week's challenge is all about familiarizing yourself with our amazing local community of makers, producers and growers. Take this week really tune in to what type of produce is growing in our area, the various micro-climates nearby, and what items are made just a few miles away from you! Expand your view of "local" to include items beyond food. We have a large array of locally made wellness and body products too. Beyond keeping our dollars in the community, the major benefits of supporting our local makers are products that are often some combination of locally grown, wild-harvested, responsibly packaged, and lowest shipping miles for a reduced carbon footprint. It is important to acknowledge that DIY-everything isn't the only option for living low-waste. By supporting products like this you help to increase the demand for responsibly made goods!