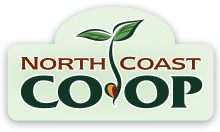 Make & Share
It's week 4 of our Sustainable Summer Challenge! Every week this summer, for six weeks, we'll be sharing a new easy way you can make the most of summer while still reducing waste and promoting sustainability. We invite everyone to participate by trying out the week's challenge and sharing photos of your activities on Facebook or Instagram. Tag us in your posts on either platform for chance to win a $50 gift card! You can also email us a photo at co-opnews@northcoast.coop and we will feature them on our social media pages! A winner will be selected every week, so submit your photos for the week's challenge by Friday.
Week 4: Make & Share
On week four of our Sustainable Summer challenge we are focusing on nurturing our community of friends, family, and neighbors. Ditch the consumer mass-produced gifts for some homemade gratitude instead. If you have a loved one's birthday to celebrate, just want to say 'thinking of you' to someone special, or 'thank you' to your neighbor try making a dessert or dinner to share with them. If the thought of baking or cooking makes you want to cry then we humbly suggest assembling a local summer fruit basket instead, an oldie but a goodie! Of course, all of this should be done in respect to current safety guidelines. Send us photos of your homemade gift!