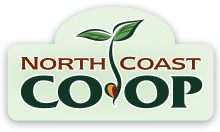 Paul Giuntoli, one of the Co-op's longtime produce growers, is heading toward retiring from farming many of the staple crops he has grown for Humboldt County residents for over thirty years. Co-op staff and members will miss his practically year-round deliveries of all varieties of potatoes and his seasonal row crops like corn, cucumbers, green beans, cauliflower and winter squash. (Market goers scrambling for dry beans and pumpkin u-pickers will need to shop early).

Paul has always been a pleasure to work with, from the first lug of gourds that he brought to the Arcata Co-op in 1985 to providing the eight acres of pumpkins for school children on his farm, Warren Creek Farms, during the annual Co-op Pumpkin Patch event. His spirit of cooperation, knowledge of farming and commitment to organic farming have played a central role in the development and depth of our current local produce scene.

Family Roots
Paul's family has farmed locally for more than 100 years. Paul's grandparents on his mother's side, Mary and Claudio Pifferini, immigrated from Switzerland in 1909 to work on dairies in the Grizzly Bluff area. In 1919, they bought a dairy on the Arcata Bottoms (also called bottom or bottomland), which came to be known as the Pifferini Ranch. At the time Claudio passed away clearing the land along the Mad River, they had five children. Mary went on to raise the children and run the dairy with help from family and friends.

On the Giuntoli side of the family, Paul's great grandfather, Pellegrino, and Paul's aunt, Maria, immigrated from Torrichio, Italy. Pellegrino started the Star Hotel which burned down and was rebuilt after the Great Fire of Blue Lake in 1911. In the 1920's, Maria went on to open the Big Four Inns in Trinidad and north Arcata. Paul's grandfather, Giovanni, and his brother also immigrated from Italy and started a produce farm near Graham Road in Bayside in the late 1920's.

Growing up in Arcata, Paul's favorite thing to do on weekends and during the summer was to hang out at his Grandma Pifferini's dairy on the Arcata Bottoms. When he was nine years old, he joined 4-H, and when he was ten, he got his first cow. As a young man, he worked for five years to become a partner in a neighbor's dairy. He started his own beef herd and after ten years, separated from the dairy. In 1983, Paul bought his own piece of land on Warren Creek Road.

In 1985, Paul had an excess of gourds from his Redwood Valley garden. "Take them to the Co-op," his mother, Ester, told him. She'd been selling her exquisite peaches and cherries from Willow Creek to the Arcata store.
"The Co-op was a good incentive to get started," Paul recalls.

Cooperation & Connections
Paul's ability to work well with other farmers, organizations and people has played a big part in his success as a farmer. Paul talked to Herman Parton who had grown potatoes on the Arcata Bottoms for a few years and had shipped some to Veritable Vegetables, an organic wholesaler in San Francisco. Potatoes have a long history of being grown on the Bottoms and Paul decided that would be a good crop to try. He was able to learn from longtime farmers along the Eel River who had grown potatoes before the introduction of many farming chemicals.

"Everyone knew everyone, and helped each other out," Paul explains.
In 1993, Paul put in a few rows of Speckled Bayo Beans on West End Road. His family had grown them at the Pifferini Ranch in the '30s. Growing up, Paul says that whenever beans were served, whether the families were Italian, Swiss or Portuguese, the beans were always Speckled Bayos. To add varieties—Red Mexican, Yellow Eye, Canario, Cranberry, Flor de Mayo— to his crops, Paul worked with Steve Temple from UC Davis Extension.

In order to grow large quantities of potatoes and beans, Paul has leased land from neighbors and had it all organically certified. He has rotated crops by sharing the use of the acreage and costs of certification with a neighboring organic dairy farmer.

Paul's farm on the Bottoms has also been a pick-up point for semis hauling Humboldt County produce down to organic distributors in the Bay Area. Several other farmers from points east drop pallets of their products there for weekly shipments going south. Cooperation and connections have characterized Paul's unique position in our community.

Farmers Wanted
Over the years, Paul has expanded his production on Warren Creek and on the Arcata Bottoms to produce 125 tons of potatoes and 5,000 pounds of dry beans annually. Paul's idyllic site for the Co-op's Pumpkin Patch event has provided a valuable farm experience for our county's children for the last sixteen years.
At this point, Paul is hoping that other farmers will step up to the plate and produce some of the crops that he has provided for the community. Paul is still growing pumpkins for this year's Co-op Pumpkin Patch, and opened the patch for the public beginning Sept. 29. He's working with Tyler Trekell to produce some of his market crops and Blake Richards of Wild Rose Farm to produce potatoes for the Co-op. He is encouraged by additional opportunities for local growers in quinoa production and the expansion of the winter farmers markets.
The Co-op would like to say a big 'thank you' to Paul for his many years of hard work and for all the wonderful produce he has provided to our members and shoppers! His reliability and positive attitude have made him a great business partner. Growing up in a small farming community and being a part of a new generation of organic farmers has put him in a unique position to contribute to the quality of life for all of us on the North Coast.