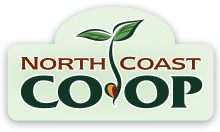 North Coast Co-op is dedicated to supporting our business community and showing love to our member-owners, so we created the Business Partner Program. Bring your Co-op membership card to participating local businesses to get exclusive discounts and deals! Not a member? Don't have a card? See Customer Service!
(Happy Hour Beer Prices, anytime)
This local brewery has been crafting our fine ales in Blue Lake since 1989. About nine years ago, we opened a small tasting room and because of the overwhelming support from our community, it has since expanded into a full restaurant and beer garden. We have the fortune of holding onto the sun as the coastal fog rolls in during the summer in Blue Lake, making us a great location to bring your family (including the furry ones) on those long summer days.
We recently installed more taps to be able to offer rotating specialties from our brewers, the occasional guest tap, local cider, and cold brewed coffee. We host live music in the beer garden year-round and give back to our local non-profits every other Wednesday with our Pints for Non-Profits program.
North Coast Co-op and their members are great supporters of our community and our local producers. We are proud to join the Business Partner Program to give a little thanks back to the community that has supported us for almost 28 years. We invite you to come enjoy Hoppy Hour with us! Cheers!
-Tera Spohr, Nor-Cal Sales and Marketing Director
This outdoor store has been part of Humboldt County for 47 years. I bought the store nine years ago and finally fulfilled my wish of owning my own outdoor store! I am one of only a handful of outdoor stores in the U.S. that are female-owned.
Adventure's Edge has been giving back to Humboldt County since the beginning. Currently we average $15,000 per year in donations for non-profit fundraising throughout Humboldt County. We help many organizations including Friends of the Dunes, local schools, local athletic events, Humboldt Tri-Kids, Tour of the Unknown Coast, Arcata Bike Rodeo, Bike Month, Humboldt Bay Marathon and many others that I don't have the space to list.
I decided to join the Business Partner Program because I believe local companies need to support each other to survive and grow. It is the connections you grow with local companies and customers that make Humboldt County what it is today. I encourage you to stop by our Arcata location at 650 10th Street, or our Eureka store at 125 W 5th Street, and see what we have to offer you. See you out there!
-Jennifer Johnson, Owner
(10% off all drop-in classes, class packages, or private packages)
This pilates studio has been up and running since the building was built six years ago. We are the only fully-equipped Pilates studio in Arcata and offer a plethora of movement classes including Pilates, Dance, Qigong, TRX, WillPower and Martial Arts. We are the only movement studio in Arcata that has multiple Pilates Reformer, an apparatus that was created during World War II out of a bed that offers a safe range of motion for any body type.
At Arcata Core Pilates we offer a safe, clean, and inviting environment to focus on strengthening your body. We enjoy giving back to our community by holding classes specifically for low-income families, we also donate gift certificates to non-profit events, and we have community-based classes at an affordable rate. We decided to join the Co-op's Business Partner Program because we love our community and want to share our expertise of movement with everyone.
If you are interested in trying Pilates, we offer special beginner prices for Pilates classes; three private lessons for $44/session or four classes for $15/session. We also hold events every Arts! Arcata from 5-8pm.
-Sharon Porchia-Vollmers, Owner & Tamra James, Administrative Assistant