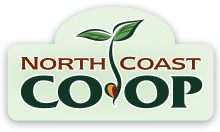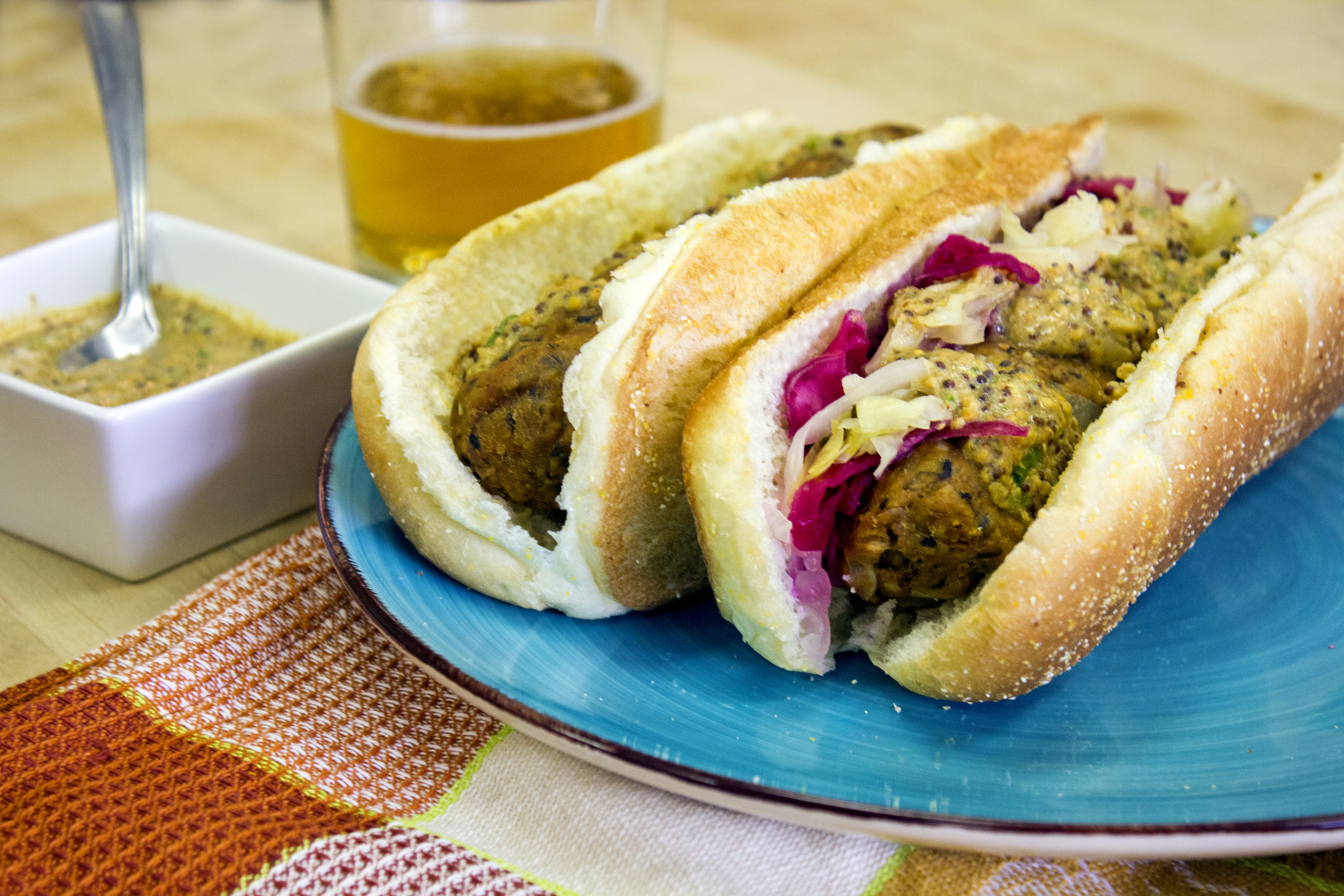 The black eyed peas in this simple yet flavorful sausage alternative provide a neutral flavor and firm texture, creating the perfect sausage base that can be flavored with any number of spice options to create different summertime snacks. Consider adding apple sauce and nutmeg for breakfast, or a hot spice blend for a chorizo option. You are only limited by your imagination – try it as a patty versus a tube shape. Whatever you choose, pairing it with our spicy drunken mustard is a must. The fermented flavor gives a sharp, savory kick.
Vegan Sausage
Spice Ingredients:
1 ½ teaspoon dry minced garlic
1 ½ teaspoon coriander
1 ½ teaspoon sweet paprika
1 ½ teaspoon smoked paprika
1 teaspoon cayenne
1 teaspoon rosemary
Salt and pepper to taste
Sausage Ingredients:
2 teaspoons olive oil
1 cup mushrooms, minced
¼ cup yellow onion, minced
2 cups cooked black-eyed peas
1 Tablespoon tomato paste
¼ cup nutritional yeast
½ cup brown rice flour
1 teaspoon xanthan gum
3 Tablespoons vegan Worcestershire Sauce
2 drops liquid smoke (optional)
Instructions:
Add olive oil to medium skillet, heated to medium low.
Add mushrooms and onion and sauté until soft. Remove from heat and set aside.
Set large pot with four quarts of water to boiling.
Drain black eyed peas (rinse well if using canned beans).
Mix black eyed peas, tomato paste, nutritional yeast, spice blend and brown rice flour.
Use potato masher, fork or hands to crumble black eyed peas mixture into a coarse mash.
Sprinkle the xanthan gum over the mixture and incorporate well.
Add sautéed mushrooms and onions to black eyed peas mixture and mix thoroughly.
Add Worcestershire and liquid smoke and mix well.
Divide mixture into four parts.
Shape each part into a sausage roll and wrap each one individually with foil.
Using a steamer basket or bamboo steamer on top of the boiling water, steam the wrapped sausages for 15 minutes.
Best to refrigerate them for a few hours to overnight to help them firm up.
Once firm, they are prefect grilled or sliced, just remove the foil and heat them up your way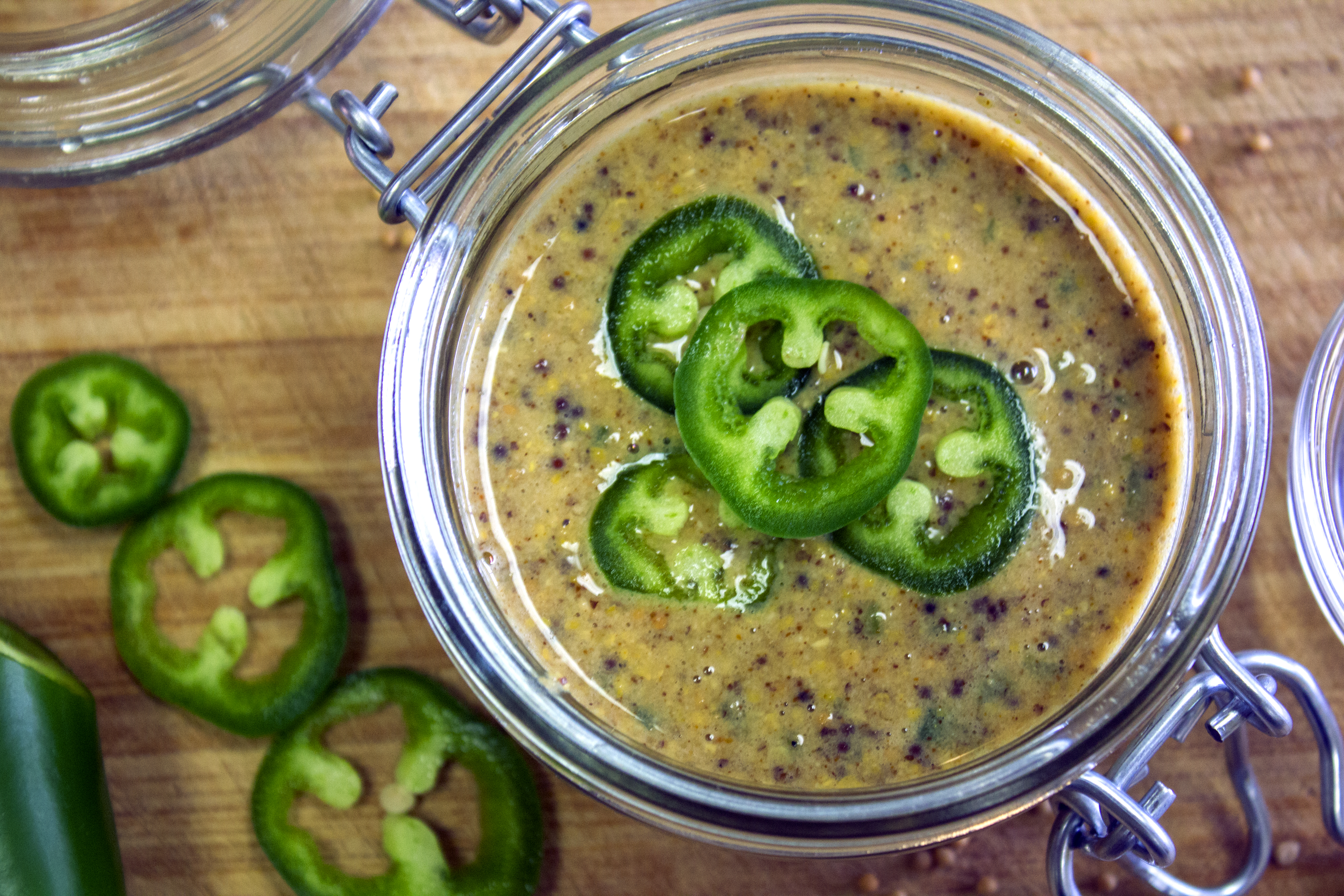 Spicy Drunken Mustard
Ingredients:
6 Tablespoons mustard seeds
½ cup mustard powder
1 teaspoon sugar
2 teaspoons salt
½ teaspoon ground chipotle
½ cup beer or water
1 whole jalapeño, seeded and minced ½ teaspoon minced garlic
3 Tablespoons apple cider vinegar
Instructions:
Grind whole mustard seeds for a few seconds using a spice or coffee grinder, or by hand with a mortar and pestle.
Pour semi-ground mustard seeds, mustard powder, salt, chipotle powder, and sugar into a bowl.
Add beer or water and stir well. Once everything is incorporated allow the mixture to sit while you prepare the fresh garlic and pepper.
Halve jalapeño and scrape out white membrane and seeds.
Crush two large cloves of garlic with the side of a knife.
Mince jalapeño and garlic to very fine pieces and incorporate into the mustard mixture.
Add vinegar and transfer the mixture into a lidded jar.
Store the jar in the refrigerator at least 12 hours to allow the flavors to blend and mixture to thicken. Good for 3-6 weeks refrigerated.