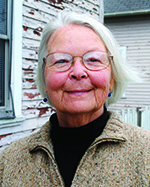 In the September issue of the newsletter, Marketing & Membership Director Cassie Blom reported that Sakuma Brothers, suppliers of berries to Driscoll's, had agreed to an election process where the workers would choose their bargaining representative. That election was held and the 500 Triqui, Mixteco and Spanish-speaking workers elected Familias Unidas por La Justicia (FUJ) to represent them in contract negotiations with Sakuma Brothers. You can follow the progress of this truly grassroots movement at the FUJ website:
www.familiasunidasjusticia.org. There you will see a photograph of the workers and their families.
As a board member, I am grateful to the Co-op members who made us aware of the situation and the members who supported the boycott. Your board was glad to stand with other co-ops from Washington, Oregon and California to secure a chance for decent wages and living conditions for these hard-working folks.