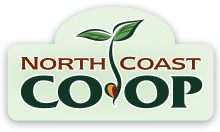 Above: Don Dell (left), Maintenance Senior Clerk, and Derik Powell (right), Maintenance Department Head, hold North Coast Co-op's award in the Arcata store Produce Department.
At the National Co+op Grocer's bi-annual national meeting in North Carolina in April, North Coast Co-op was recognized as a Sustainability Star! We tied The Food Co-op in Port Townsend, Washington, as the two co-ops in the nation with the lowest energy use per square foot. Specifically, our recognition included:
A 10% reduction in energy use per square foot at our Arcata store (over two years),
Innovative water efficiency measures,
Increased reuse and recycling by over 44 tons,
Began tracking refrigerant escape,
Has USDA Certified Organic facilities.
We are very proud of this recognition and commend our employees for working hard to make these changes in our operations. From our Maintenance team who instituted the water savings, to the increased recycling in our production areas, to the cooperative effort to maintain our organic certification, we thank everyone for contributing to success in our sustainability efforts.
| | |
| --- | --- |
| We especially thank former employee (now retired) Brenda Harper for her initiative and tenacity in getting us started on a path toward measuring our energy and waste. Without data, we would not know how well we compare to others, nor how well we are doing in reaching our own goals around environmental responsibility. | |
Getting a tracking program in place is complicated and requires good systems. It also requires good software. Special thanks go to National Co+op Grocers for launching their Co+efficient sustainability software in order for co-ops to measure their impact on their communities. We are Stronger Together!